Shutterstock uses AI to help people avoid image copyright issues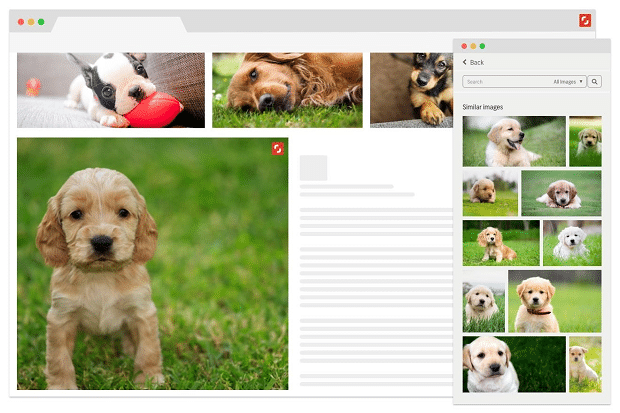 Shutterstock is making it easier for people to avoid using copyrighted images on Google Image Search with a new AI powered Chrome extension.
The tool, called Shutterstock Reveal lets web surfers select an image from the search results to find a similar shot that's actually available to license.
The tool comes alongside the launch of two new search tools inside Shutterstock Showcase, previously Shutterstock Labs.
The move follows Google's recent removal of the image search button because of a new licensing agreement, meaning users struggled to find and download high resolution images.
This tool is part of Shutterstock's new experimentation site, "Showcase," featuring a suite of deep learning powered search tools including the above Chrome extension and:
Reveal – a Google Chrome extension allowing users to select any image online and find a similar photo, vector or illustration within Shutterstock's collection of more than 180 million licensable and ready to use high-quality images.
Copy Space – a tool based on Shutterstock's custom built computer vision technology enabling users to specifically search for images that have space for text and then select where and how much copy space is needed.
Refine – a tool that allows users, from the first page of search results, to select those images most similar to what they are looking for, and Shutterstock's technology will surface other images that have a similar style and other commonalities to the selected images.
"Shutterstock is dedicated to providing our customers with smart, easy to use tools and technology that are seamlessly integrated into their daily workflow," said Jon Oringer, Founder and CEO of Shutterstock. "We continue to invest in building an innovative platform for our users around the world and investing in computer vision research and deep learning to improve the customer experience. It's exciting to be able to share the results of some of the AI technology we have been working on."
In October 2017, Shutterstock's computer vision team launched its Composition Aware Search, now called Composition Search, to help customers find the exact image layout they need by placing keywords on a canvas and moving them around to where they want the subject matter to appear in the image. The patent-pending, spatially aware technology, previously launched in beta on Shutterstock Labs, is now featured prominently within the new Shutterstock Showcase site.