15 jobs of the future: Virtual teacher, time broker and drone manager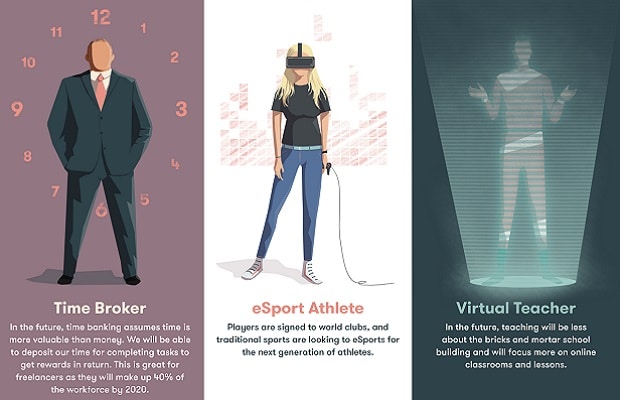 We all had a dream job as a child, whether it was being a doctor, a lawyer, a firefighter, but a whole new catalogue of careers are soon to be introduced in the near future as technology becomes increasingly integrated into our lives. This infographic lists 15 jobs that could be commonplace in the not-to-distant future.
RS Components has create a graphic revealing some of the most exciting jobs of the future, which the younger generations will have the chance to experience. From drone managers to a space tourism guide and even a virtual reality teacher, there really is something for everyone. Are you ready for your career to take off into the future?
Key findings:
The rise of the social media lawyer – with a staggering 5.8 million cybercrimes a year, and Facebook and Twitter getting incidents reported every 45 minutes, cyber lawsuits are set to increase along with the number of lawyers in this industry
Classrooms will take another step to becoming digitised with a virtual teacher – the days of the blackboard are well behind us and whilst schools already have laptops, and iPads for students to use, this digitisation will focus even more on online classrooms and lessons
Tour guides are being skyrocketed to the future, quite literally! – Space will soon become the next holiday destination with the likes of Virgin Galactic emerging. For travel and tourism, roles will literally be entering a whole new world!

You can view the content here