Almost 1 in 10 workers in Dublin are developers: UK and Ireland tech hub league table
Dublin's developers make up nearly 10% of the city's working population, the highest proportion of all cities in the UK and Ireland, according to new data from Stack Overflow's Q1 Developer Ecosystem Report. London still maintains the largest tech community – with over 365,736 developers calling the capital home – however, they account for a […]
Dublin's developers make up nearly 10% of the city's working population, the highest proportion of all cities in the UK and Ireland, according to new data from Stack Overflow's Q1 Developer Ecosystem Report.


London still maintains the largest tech community – with over 365,736 developers calling the capital home – however, they account for a smaller section of the city's workforce, at approximately 7.7%. Meanwhile Edinburgh comes in third place, with developers making up 7.1% of the workforce.
Surprisingly, despite its reputation as a major tech hub, Cambridge only scraped into the top ten taking ninth position, with developers forming 3.8% of the city's working population.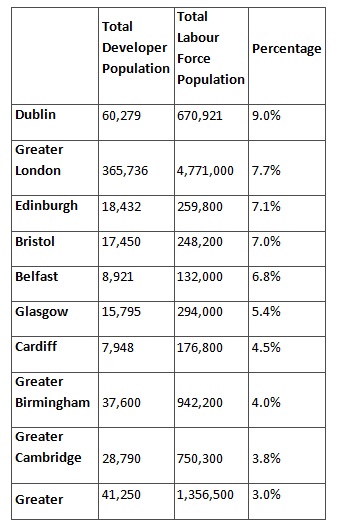 About the report
Throughout 2017, Stack Overflow will release four new reports that take a close look at the developer ecosystem in the UK and Ireland. Each will explore a distinct theme within the tech community: the first focuses on tech hiring – how software engineers find jobs, what matters to them when considering a new position, and the tips they want to give to recruiters who are hiring their future colleagues.
The reports are created using a combination of proprietary data (captured from Stack Overflow's unique machine learning platform, that tracks IP address and user behaviour over time) and qualitative data from Stack Overflow's annual user survey (the world's largest developer study). The Developer Ecosystem: Tech Hiring Edition also features commentary by Code First:Girls, TransferWise, ThoughtWorks and Ovo Energy.
Find the Developer Ecosystem Report: Tech Hiring Edition here.
stackoverflowbusiness.com/uk/talent.