Bosses lack confidence in brand reputation and media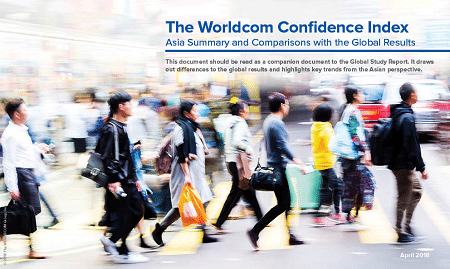 UK leaders are significantly less confident that they have the corporate image and brand reputation to achieve their objectives, and are half as confident as US companies in their ability to protect their brand in a crisis according to new research.
The study, from the Worldcom Confidence Index, also found that influencers ranked low when it comes to attention they will command this year.
The Worldcom Confidence Index is a new global study exploring key issues that impact the confidence levels of business leaders across 18 demographic categories, including business roles, age, gender, business size, geographic presence and more. It is based on 600 interviews with CMOs and CEOs in China, France, Germany, Italy, Japan, UK, USA and Eastern Europe.
Whilst UK leaders scored low on brand and image confidence, they seem to be more confident than their peers around the globe when it comes to outperforming competitors, keeping their people, and that they have access to the technology and technical resources they need to achieve their objectives.
Surprisingly, given the media attention they command, influencers were ranked as the audience that will receive the second lowest attention in 2018 in the UK. And, UK companies aren't positive either about the media environment. Only one in 25 leaders saw this as a reason to be confident about achieving their goals – 33% less than the global average. Unsurprisingly, given the uncertainty around Brexit, the political environment also ranked as the second lowest source of optimism.
The Worldcom Public Relations Group is the world's leading partnership of independently owned public relations firms, with 143 offices employing some 2,000 staff in 115 cities across six continents. Worldcom partners reported combined revenue of US$288 million last year from 3,034 clients. In the UK the partners companies are FWD, JBP, Kaizo, and Onva.
Rhodri Harries Managing Director of Kaizo, a UK partner of Worldcom, said: "Confidence is fundamental to great communications. It sets the tone for how brands address the challenging issues right across their businesses; from building market share to retaining the best talent. The study has been designed so that businesses can gauge where they are against competitors across the globe, to help them develop future plans with more certainty, and ensure that communications is fit for purpose in this ever more pressured commercial environment."
Overall, globally CEOs and CMOs top three threats to achieving their organisation's plans are 'government and legislative changes'; 'lack of available talent' and 'cyber-crime'. It's good news for employees, as the report indicates that a majority of organisations are planning to give most attention to employees in 2018 – the only audience to see an increase in attention since 2017.
The study shows there are clear differences in confidence based on Geography, and also suggest that there could be a surprising uplift from Trump's presidency. Organisations headquartered in America sit atop the Confidence Index, ranked almost twice as confident as organisations headquartered in Asia. In additional to this more than double the number of organisations from America than EMEA think the style of political leader communications has a positive impact on their optimism about their growth potential.
The full report is available here https://worldcomgroup.com/resources/confidence-index