Businesses 'failing to align strategy and digital delivery'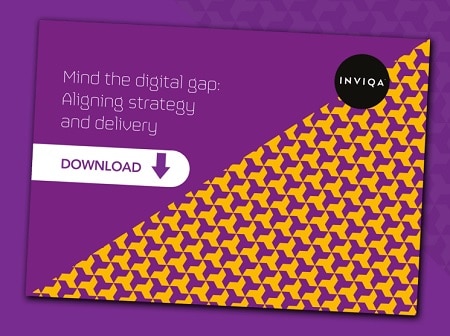 Organisations are failing to align business strategy and digital delivery, and that customer experiences are suffering as a direct result, according to new research.
The report, 'Mind the digital gap: aligning strategy and delivery', has been published by digital partner and consultancy Inviqa.
It reveals that organisations are struggling to deliver joined-up digital experiences that meet or exceed customer expectations and are inhibited by internal siloes and unsuitable processes and methodologies.
The survey was completed by 100 UK-based senior digital managers in roles such as chief information officer (CIO), chief digital officer, and head of digital, with the majority of respondents (69%) coming from enterprises that have been trading for more than 15 years.
Ollie Maitland, digital innovation director at Inviqa, said: 'Our research suggests that where there is a disconnect between business strategy and the teams responsible for delivering digital products organisations struggle to improve customer experiences and miss opportunities to innovate and gain a competitive advantage. In publishing this study, our aim is to raise awareness of what businesses can do to establish a legacy of the right processes, practices, and methodologies to become customer-centric and support digital innovation'.
Some of the report's key findings are as follows:
68% of digital managers agree that internal structures and governance negatively affect their organisation's ability to deliver effective customer journeys
53% believe their organisation is failing to balance the demands of day-to-day technical operations and technical innovation
72% 'agree' or 'strongly agree' that Agile creates better engagement across teams, but 44% are not currently using Agile in their organisations
Almost half of respondents (45%) don't have a formalised system in place for measuring the performance of their digital products and services
42% of digital managers believe that embracing new processes and methodologies that connect strategy and innovation is the most important change their organisation can make to improve customer experiences
The 'lack of internal agreement on where to focus efforts and resource' is the number-one obstacle to achieving powerful customer experiences
The 'time it takes to deliver digital initiatives' is perceived as the biggest obstacle to achieving business goals
Commenting on the findings, Andy Skipper, founder and consultant CTO at Saccade, said: 'This report contains some great statistics and insight on how to construct a healthy environment for digital delivery that allows your organisation to achieve its objectives and avoid the standard pitfalls of silos, shadow IT, and a lack of transparency and predictability'.
To access the full findings, download the report at:  https://inviqa.com/whitepaper/mind-digital-gap