Doodle 1:1 scheduling feature tackles 'wasted minutes' arranging meetings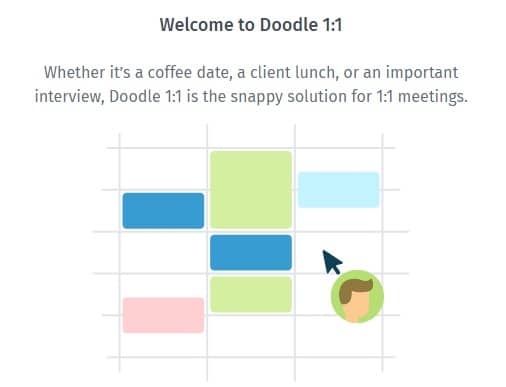 Online scheduling tool Doodle has launched Doodle 1:1, allowing users to easily schedule one on one meetings in just two steps.
Research conducted with Nielsen* reveals that scheduling one on one meetings takes up to 223 minutes out of busy professionals' time each week and Doodle looks to win some of that back with the brand new feature.
Busy Professionals were identified in the research as workers with 15-25 meetings per week and usually hold the title of team leader or manager across any industry.
According to the same research by Nielsen, one on one meetings are by far the most frequent meetings, highlighting the need for simpler scheduling as many busy professionals waste time going back-and-forth over timings.
The tool, available in beta, works by sending an invite with time options to one person, who picks a time, which then automatically places the event into both calendars. While similar tools work with sharing an availability calendar, Doodle 1:1 keeps the user's privacy by only showing a snippet of available times.
It comes as a milestone in Doodle's transition from a consumer tool for organising gatherings to a subscription-based business tool and follows other features including deadlines for invitation responses and a scheduling bot to allow quick team scheduling.
Doodle currently reaches 200m users a year, with thousands of regular business users at companies such as Apple, Google and Amazon, and aims to grow significantly through the transition to a subscription model.
Gabriele Ottino, CEO of Doodle, comments: "We all know the painful back-and-forth of scheduling one on one meetings and we're excited to offer a stress-free alternative to businesses. We're proud to enable great meetings with Doodle 1:1 so that people can focus on sharing ideas, not dates."
Josep Jornet, Professor in the Department of Electrical Engineering at the University at Buffalo, testifies for the time-saving ability of the product: "I can schedule a meeting in less than two minutes with the Doodle one-on-one scheduling tool."