Gen Z 'motivated by job satisfaction more than money'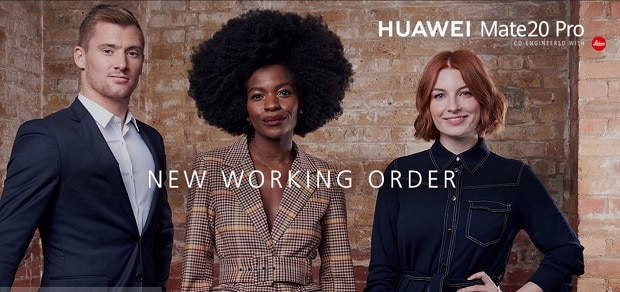 Generation Z are more motivated by job satisfaction and working for the social good than by money, according to new research.
The research, from Huawei, also unveiled that a new tribe of working professionals is emerging among Gen Z − the 'New Working Order'.
Around half (40%) of Gen Z are now a member of this new tribe – a breed of self-starters using technology to empower and create their futures, turning passions into pounds to pursue careers that truly matter to them.
The report, in partnership with Chris Brauer, Director of Innovation at Goldsmiths, University of London and based on responses from 2,000 18-25-year olds across the UK, also reveals that a new tribe of working professionals among Gen Z is emerging − the 'New Working Order'.
Commissioned to mark the recent launch of the Mate 20 Pro – a device packed with superior power and performance features to help everyone achieve their ambitions, the research reveals that almost half (40%) of Generation Z are now a member of this new tribe – a breed of self-starters who are using technology to empower and create their futures, turning passions into pounds by combining education with experience to pursue careers that truly matter to them.
The report revealed that members of the NWO have a strong self-starter mentality, with over half (52%) admitting that they already have a passion project on the side, with a further 59% saying they are hoping to turn this into their main income stream in the next year. Among the NWO, blogging and freelance writing lead the way when it comes to side hustles (33%), followed by running themed social media accounts (23%) and vlogging (23%).
Top New Working Order Passion Projects
1. Freelance writing or blogging
2. Running a themed social media account e.g. Travel focused Instagram channel
3. Vlogging
4. Food or drink side hustles e.g. Running a barista coffee stall
5. Arts and crafts side hustles e.g. selling handmade items at a market stall
The research also revealed that the majority of the NWO (85%) prefer to combine education with experience to help advance their careers, using digital tools such as YouTube and TED Talks to lead their own creative revolutions alongside their University degree. When it comes to working habits, 85% of the New Working Order say the ability to work flexibly is extremely important to them, with the same number (85%) believing in learning from failure and valuing collaboration and sharing new ideas (84%).
Technology is playing an increasingly important role in the lives and careers of this new tribe; 86% claim that digital tools, including smartphones, are an important tool in empowering them to drive their passions forward. 84% say they use their phone as a source of inspiration and gathering new ideas, while 86% describe it as an essential tool in enhancing their productivity when it comes to multi-tasking. Two thirds (66%) go as far to say that many of their creative processes can only be performed using their smartphone.
As the New Working Order require the right technology to market themselves and share ideas in today's social world, battery life (74%), a superior camera quality (43%) and processing power (39%) were all cited as the most important features for aiding creativity and performance, coming in more important than a device's price point.
Justin Costello, Head of Marketing, Huawei UK & Ireland said: "Technology is rapidly changing the way that we live, work and play. Instead of working the traditional 9-5, climbing from intern to executive, Generation Z are now turning passions into pounds and exploring multiple skill-sets to build custom careers that are bespoke to them. This 'New Working Order' tribe freelances, works flexibly, runs side hustles – and uses technology to make it all happen.
Despite these far-reaching ambitions, not having access to the right technology (50%), adequate funds (62%) or training (57%) are all still acting as barriers to success for this new tribe of individuals. We need to ensure that there is more support available to help this group advance their careers − something we hope to do with the launch of our New Working Order Bursaries."
To celebrate the launch of the Mate 20 Pro, Huawei has teamed up with a three of today's hottest members of the New Working Order – TV and Radio personality Alice Levine, Freestyle Football world champion Andrew Henderson and Fashion Blogger Freddie Harrel – who will each award a £10,000 bursary to help young, ambitious talent kick-start or advance their careers.
Alice Levine said: "I'm really thrilled to be involved in this project – Gen Z are such an exciting generation full of creativity and ideas, and it's so important to empower them to bring their passions to life. I can't wait to see the entries. For me, working on multiple projects was the logical thing to do – like so many people, I'm interested in many things, I'm in to food, I love presenting, music, comedy – and I want them all to feature in my working life somehow. It was less a grand decision to shake up my career, and more a necessity to work on things I am passionate about."
Chris Brauer, Director of Innovation, Goldsmiths University said: "The New Working Order draws on a multi-faceted skillset to initiate action, using both technology and human networks in an agile way that helps them to create. They are innovators, producing ideas at speed and executing them seamlessly, are resilient and responsive to what doesn't work, and iterative so that they can continue to create. The use of smartphones transforms the way this tribe works, allowing for a set of skills and mindsets that fuel the next generation of workers."
To find out how to apply for one of the three bursaries, please visit www.huaweinewworkingorder.co.uk.