Payment trends: Canada leads cashless economy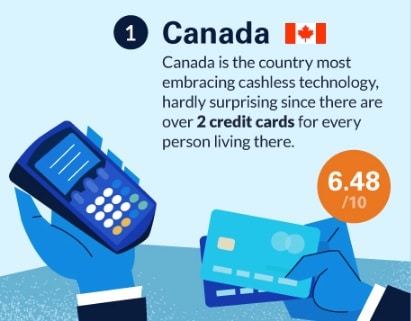 Canada is leading the world when it comes towards consumer adoption of cashless technology, followed by Sweden and the UK, according to new research.
A new study from Forex Bonuses finds the countries among the 20 largest economies who are adapting quickest to using cashless systems like phones and contactless cards – revealing that Canada narrowly edges out Sweden for the top position.
Looking at 6 key metrics, including number of debit/credit cards per capita, percentage of transactions that are cashless, and growth of cashless payments, 20 of the world's top economies were studied and the UK ranked the top 10.
Key points from the study include;
Oh Canada – The North American country beat out their US neighbours to take the top spot – mostly due to the high percentage of payments already being completed through cashless methods.
UK in Top 3 – With Sweden in 2nd place, the UK rounds out the top 3 with a high number of citizens there being ready to embrace mobile payment services.
China Not Dominating – Surprisingly the Asian superpower falls just outside the top 5. Whilst they have strong scores for many metrics they were let down by their lack of credit card usage and a high remaining prevalence for cash payments.
Investigating twenty of the world's most significant markets, the study looks into contactless card saturation, number of debit and credit cards issued per capita, usage of cashless methods, growth of these cashless payments, and the proportion of people who are aware of which mobile payment services are available.
From these 6 metrics an overall ranking was calculated.
Cashless Economies
The top position has gone to Canada, who, while only having contactless functionality in 26% of their cards (compared to 41% in the UK and 56% in China) and the lowest number of debit cards per capita included in the research (0.7), were found to have over two credit cards per person, a figure only exceeded by their neighbours in the US, who had just under 3.
Likewise, the majority of their payments were made using cashless means at 57% of transactions, outmatched only by 2% in both Sweden and France. The UK reached 52% on this scale, while China, despite the majority of cards being contactless, used cashless methods in only 10% of transactions. China were also the most educated on mobile payment services, with 77% of survey respondents claiming they were aware of the options available to them in this regard. In comparison, only 47% in the UK claimed the same.