Pokemon Go! for blockchain: Cryptokitties craze slows down digital trade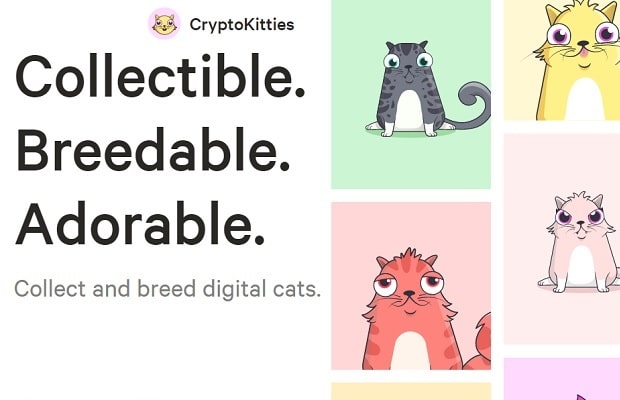 'CryptoKitties', a new virtual kittens game designed for blockchain technology has become so popular that it is slowing down trade in one of the world's largest crypto-currencies.
The app-based game lets players buy and breed "crypto-pets" on Ethereum's underlying blockchain network.
Etherscan has reported a sixfold increase in pending transactions on Ethereum since the game's release, by the Axiom Zen innovation studio, on 28 November.
An estimated $4.5m (£3.35m) has been spent on the cartoon cats at the time of writing, according to Crypto Kitty Sales.
CryptoKitties can be bought using only Ether, a crypto-currency that acts as the fuel of the Ethereum blockchain network.
To get started, users must install a Chrome extension called MetaMask, which acts as a digital wallet and lets players send and receive Ether from their computers.
Ether must be purchased from a crypto-currency exchange before it can be added to MetaMask.
Slowing down serious trade
The game accounts for over 10% of network traffic on Ethereum. As traffic increases, transactions become more expensive to execute quickly.
As a result of the clogged up network, the token sale for blockchain platform SophiaTX , originally planned to start on Dec. 5, has been pushed back to ensure an orderly sale. SophiaTX, which is developing a blockchain platform for business-to-business use cases, said it will hold its ICO on Thursday, December. 7.
The problem, the team said, is that the activity around CryptoKitties – an ethereum-based app that uses tokens to represent digital cats that can be traded, exchanged or bred to create more e-pets – has effectively clogged up the blockchain.
As a result, users – including those trying to participate in token sales via the ethereum network – are stuck with longer wait times given the plethora of transactions associated with the CryptoKitties app.
"We have decided to delay the [token generation event] start by 48 hours because a very large number of participants will use ETH during and it would be a major disappointment if their attempted contributions wouldn't be processed timely and that would result in a significant backlog of transactions with very long waiting times," they said in a statement.