Amazon slashes Wholefoods prices by up to 43% on first day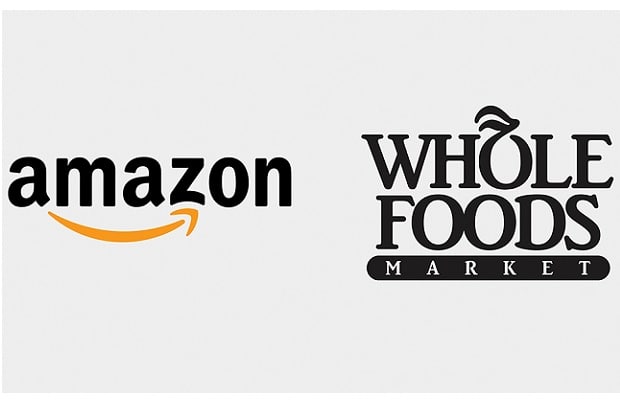 Amazon has cut prices on a range of products at its newly-acquired Whole Foods grocery chain it bought for £10.7bn earlier this year.
The internet giant cut prices at Whole Foods by as much as 43% on some items in its US stores, knocking the share prices of US rivals Costco and Kroger in early trading on Monday.
The company has 460 shops with the vast majority in the US and Canada and seven in the UK, where prices were also dropped by up to 33%.
As an example, the price of bananas in UK stores dropped from £1.79 per kg to £1.20 – a fall of 33% – while organic tomatoes on the vine fell 31% to £2.40 from £3.49. There were also discounts to be had on meat, including organic beef steak mince down from £5.89 for 380g to £3.99; a Capestone organic whole free-range chicken is now £6.50 per kg instead of £7.99 – a drop of 18%.
The move comes at a time when UK supermarkets are battling against rising costs from business rates and the National Living Wage, as well as a steep rise in import costs on the back of the fall in sterling.
The price cuts could hasten moves by UK supermarkets to pursue deals that will give them greater scale or new revenue streams. Sainsbury's won a battle last year to snap up Argos owner Home Retail Group, which gave it a greater presence in consumer electricals, and is in discussions to buy Nisa, the member-owned wholesaler and convenience chain.
Signs of Amazon's plans for Whole Foods, purchased for $13.7bn in June with the stated ambition of marrying technology and rapid distribution to the bricks-and-mortar business of food retail – including placing a stand of Amazon Echo devices, discounted from $149.99 to $99.99, next to the organic red seedless grapes. The grapes, in turn, were discounted from $3.99 a pound to $2.49, and large organic California yellow peaches had fallen from $3.49 a pound to $1.49.
The placement of Amazon's artificial intelligence assistant plainly indicated the company's plan to integrate grocery shopping and delivery into its online and the Amazon smart AI assistant, called Alexa. In addition to the Echo, the Echo Dot was discounted from $49.99 to $44.99.
Over time, Amazon plans to integrate its Prime membership program into the Whole Foods checkout process. Amazon will also place its Amazon Lockers package pickup machines in some Whole Foods stores, and make Whole Foods' private label products available on its website.