"Merry Biscuits": McVities plans biggest ever Christmas campaign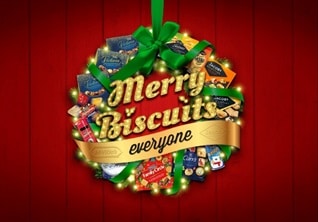 Agency pladis has unveiled plans for its biggest ever Christmas brand campaign. It's the first time well-loved brands under the McVitie's, Jacob's and Carr's master brands will come together under the campaign banner "Merry Biscuits everyone."
At the heart of the campaign is the concept of sharing: through an integrated campaign, pladis will bring-to-life the role its brands play in making Christmas magical.
From the Jacob's Biscuits for Cheese selection for the Boxing Day spread, the McVitie's Family Circle box passed round in front of the TV, or the McVitie's Jaffa Cake Pole under the three – "Merry Biscuits everyone" highlights the products that bring family and friends together to celebrate the festive season.
With a total investment of £1.3 million to support McVitie's, Jacob's and Carr's, the seasonal campaign will involve an on-pack promotion, immersive in-store experience for shoppers and seasonal point of sale across grocery, independent and convenience channels.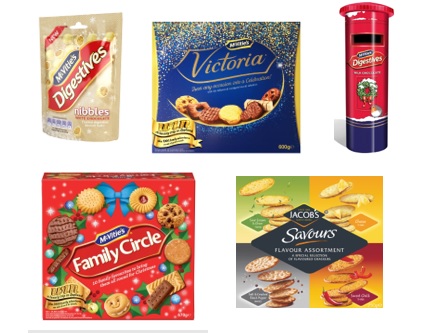 Taking the campaign beyond pack and product, there will be an exclusive promotion with consumers given the chance to win a luxurious trip to Lapland or one of thousands of family days by unlocking the 'Merry Biscuits grotto'.
To enter, people will find a unique code on promotional packs of products such as McVitie's Victoria, Family Circle, Jacob's Biscuits for Cheese Selection and all Jacob's Caddies; they then submit the code online to instantly discover if they've won one of the family days and be automatically registered for the prize draw to win a trip to Lapland.
Hena Chandarana, UK Trade Communications Controller at pladis, said: "We're really excited about this year's campaign for McVitie's and Jacob's – our biggest and most integrated yet. We've injected some real Christmas magic into our creative approach – from new packaging designs and an amazing on-pack promotion through to stand-out in-store activity. pladis is home to some of the nation's best loved brands and what we've done this year is dial-up the role our biscuits and snacks play during the festive season, reminding shoppers that it just wouldn't be Christmas without them!"