Unilever brand Cif partners 'Uber-style' cleaning service Helpling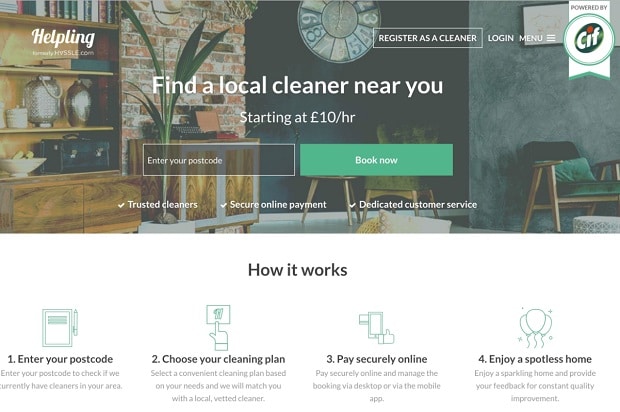 Unilever's cleaning brand, Cif has struck a partnership with Helpling, Europe's leading online marketplace for household services to help free up people's time from their cleaning chores.
The news follows the recent partnership between Hellmann's and the on-demand delivery service Quiqup, which was also established by the Unilever Foundry – Unilever's global platform that partners it's 400+ brands with innovative startups.
On average, people spend two hours a day cleaning. Under the new deal, the Helpling app and website lets people book a vetted and insured cleaning service provider and, at the same time, purchase Cif products to manage their household more conveniently.
The partnership, starting with a pilot in London, follows Unilever's investment into the home-cleaning platform and is supported by Unilever Foundry.
The joint venture comes as part of Cif's wider strategic plan to find new, innovative ways to help people cope with increasingly stressful and frenetic lives.
Charlie Beevor, Vice President for Cif, commented: "In cities, such as London, people have extremely busy lifestyles that makes it hard to keep up with the household jobs. People are looking to technology to make their lives easier. By connecting people with trusted cleaners via the Helpling platform and our great CiF products, we free up their precious time to focus on what they enjoy most whilst keeping their homes beautiful to be enjoyed and lived in."
Benedikt Franke, Co-founder of Helpling, commented: "Today's consumers have come to expect businesses to offer solutions that make their lives easier – already, consumers don't have enough time and want to make the most of what they have.
Partnering with Cif allows us to collaborate with a well-established brand to help ease the labour of cleaning. Our service enables Cif to keep evolving and connecting with new audiences and adapt to changing digital consumer lifestyles."
Unilever Foundry, a global platform for startups to collaborate with Unilever's 400+brands, has been an entry point for innovative tech companies for over three years, piloting over 100 startups with Unilever brands in that time.
To find out more about startup collaborations with Unilever Foundry, click here.