Valentine's Day marketing review: Evolution of emotion in video campaigns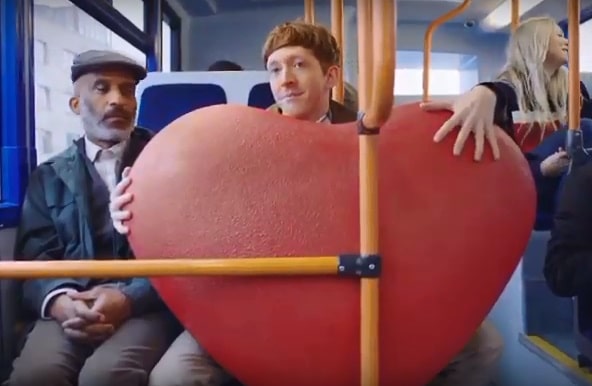 We all know Valentine's Day is full of emotion - this is reflected in all Valentine's Day video campaigns that land year on year. This year, video creation platform Wochit, predicted the trends that we saw hit our hearts, minds and wallets. Here are some trends we watched and noticed just how brands are using emotions to draw in consumers and influence behaviours.
The three key trends are:
So over Valentine's Day
Furthering Durex's campaign, 2019 digital was aimed at 'something different' with the best videos reminding viewers that there is nothing exclusive about Valentine's day. Last year Ladbible's video of a man eating a burger at home while facing his mirror got 4.4M views and 54K likes and we predicted that videos of comedy and self-love will continue to replace traditional candle-lit dinners.
Animation Inflation
Renault's lovestruck postman (2018) was in the spotlight last year and Valentine's day isn't the only calendar event with a growing taste for animation, Heathrow, Argos and Aldi all used animation in their Christmas videos last year and we saw Valentine's day this year continue to make use of animation in their videos to share their Valentine's day message.

More Love, Less Romance
2019 won't just be about couples. Digital campaigns have become more inclusive; in 2017, Deliveroo took a funny spin by including singles in couple's plans as a "third wheel", while chocolate brand, Galaxy chocolate claimed it is for the 'bold' showing a women successfully fooling three men into buying her gifts. 2019 Valentine's Day has seen a friendship theme used by H&M, a family setting in Sainsbury's Valentine's day video, and even strangers on a bus in Moonpig's Valentine's day Video. We saw the shift in focus embody a wider meaning of love, whether it is the love between friends, family, pets or 'self-love'.

"This year we witnessed a drastic evolution of emotion in brand videos and social media campaigns, as brands are appealing to a wider audience than just the traditional meaning of 'couples' or 'romance'. Digital campaigns have become more inclusive and have shifted their focus to embody a wider meaning and emotions attributed to love, whether it is the love between friends, family, pets or 'self-love'.
"In addition to cheeky brand campaigns, we saw an influx of tongue-in-cheek campaigns. Brands that weren't traditionally linked with Valentine's Day celebrations but are jumping on the anti-Valentine's Day movement and evoking emotions of individual empowerment by promoting activities and products for individuals. The sense of doing 'something different' is a strong message among younger generations at the moment, and the fear of missing out (FOMO) is the strongest emotive string that will be pulled.
"If dating apps have taught us anything, it's that humans have been programmed to make an emotional decision in seconds, and swipe either left or right. Brands that successfully reached humans on an emotional level this Valentine's Day are the ones that embodied this philosophy and made sure their digital campaigns made the desired impact in a matter of seconds. To get brand messages across clearly, quickly and with impact this Valentine's Day, brands turned to fast, simple video campaigns, as they are easily shareable on social and trigger that instant emotional response."
Source: Wochit