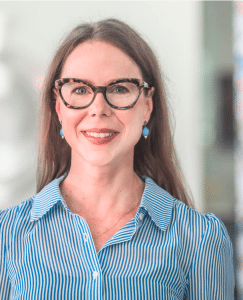 Amanda Thompson
Senior Digital Strategist (North America)
A proven action-oriented leader who incorporates strategic and creative thinking into every situation.
Amanda Thompson leads marketing transformation programs to give teams the knowledge and skills they need for marketing in a digital world. Her specialist skills in digital marketing strategy are used across the team to create the right marketing approaches for the brands and organisations we support. Based in the United States, Amanda started her career on the agency side in account management and operational roles, transitioning to a marketing focus over ten years ago at Coca-Cola, where she created and ran a digital marketing education program for global marketers to ensure their skills were sharp and they were taking advantage of digital tools and platforms.
Amanda is a skilled corporate trainer, building content customised for various markets and delivering that content in fun and interesting ways. In addition to digital marketing training, she has focused on social strategy and marketing for large clients such as Target, Estee Lauder, Bic and Michaels Crafts Stores, helping them to build a social business strategy and put it into practice. She has led marketing for a small start-up in the gamified learning space – building a brand from scratch and managing key accounts including The Home Depot, AT&T and CapitalOne along the way.
She then turned her focus to Coca-Cola once again to deliver marketing transformation and build a new and improved digital marketing education program from scratch – incorporating what she had worked on years earlier, now with a real budget and momentum from the executive teams. She spearheaded that initiative for three years in partnership with Digital Strategy Consulting, training over 700 Coca-Cola marketers from Atlanta to Moscow, to New Delhi to Cartagena, and many places in between. She then led Marketing and Business Development for an advertising agency based in Atlanta and New York City, Definition 6. She created and told the story of the agency while seeking out and landing new customers across digital, entertainment and PR services divisions. Most recently Amanda served as a Communications Strategist for Starbucks on the rollout of their Digital Asset Management system.
Outside of work, Amanda loves swimming, yoga, skiing, reading novels and traveling, along with spending time with her husband and dogs in the park or at the lake.