Pfizer app uses Minecraft to help kids with hemophilia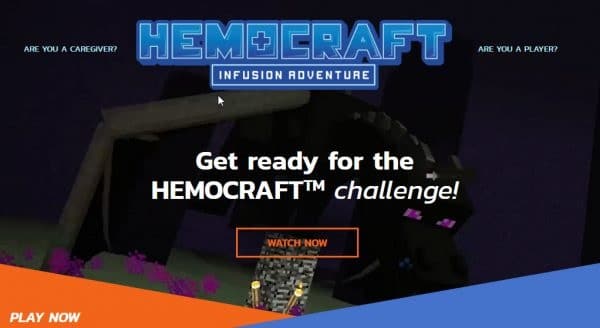 Pfizer has launched a modification of the popular sandbox game Minecraft, offering children with hemophilia a new way to learn about staying safe and prepared and maintaining their treatment plans.
Launched this week at the National Hemophilia Foundation's annual meeting in Chicago, the game is called HEMOCRAFT and was developed in partnership with the Entrepreneurial Game Studio at Drexel University, the NHF and other members of the hemophilia community.
The app, aimed at kids eight to 16 years old, is an adaptation that works in conjunction with Minecraft game. It offers a simulated environment meant to be fun and educational way for those with hemophilia to learn about better integrating preparedness and treatment into their daily routines.
Downloadable via HEMOCRAFTQuest.com, the fantasy game leads players on a quest where they interact with the "village doctor" to learn how to stick to their treatment plan and understand how it works. Kids are challenged to monitor factor levels and self-infuse to help control bleeding, if needed.
"These new digital innovations can be integrated into everyday routines to help empower people with hemophilia to learn about and track different aspects relevant to their disease so that they can have informed conversations with their healthcare providers," said Kevin W. Williams, chief medical officer of Pfizer Rare Disease.
The app is aimed not just at patients, "but equally as important, their friends and family to better understand the concept of factor levels in being able to stay active, and stay in the game," said Kate Nammacher, senior director of education at the National Hemophilia Foundation.
At the NHF annual meeting, Pfizer also unveiled a new device aimed at all of the 20,000 people in the U.S. (and 400,000 people worldwide) who have the condition.
The new HemMobile Striiv Wearable is billed as the first such device aimed specifically at hemophiliacs. The wristband offers an array of features that help patients track daily activity levels and monitor their heart rate.
The device integrates with Pfizer's HemMobile app, where users can log bleeds and infusions, monitor factor supply and set appointment reminders. The data captured there enables personalized reports to be generated that can inform discussions between physicians and patients.
HemMobile Striiv Wearable is available free to anyone diagnosed with hemophilia in the U.S., regardless of what treatment they use.