Amazon plans to deliver by drone within months
Amazon is set to launch self-piloted drones capable of delivering packages to customers in 30 minutes or less in the coming months.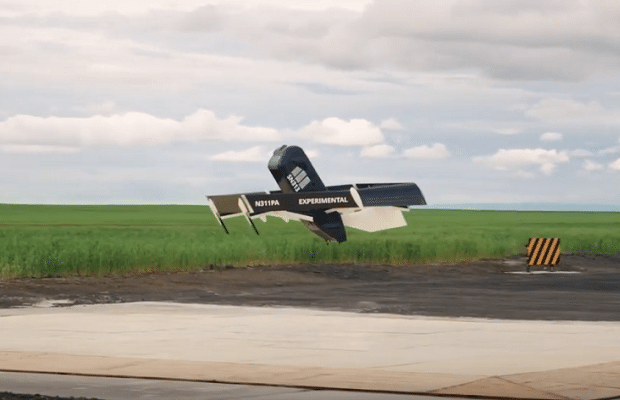 The online retail giant made the announcement at the firm's re:MARS conference in Las Vegas on Wednesday.
Amazon said its new drones use computer vision and machine learning to detect and avoid people or clotheslines in backyards when landing, however it did not give exact timing or say where the drones will be making deliveries.
"From paragliders to power lines to a corgi in the backyard, the brain of the drone has safety covered," said Jeff Wilke, who oversees Amazon's retail business.
Wilke said the drones are fully electric, can fly up to 15 miles (24 kilometres), deliver in 30 minutes and carry goods that weigh up to 5 pounds (2.3 kilograms), like a paperback book or toothpaste.
Amazon has been working on drone delivery for years. Back in December 2013, Amazon CEO and founder Jeff Bezos told the '60 Minutes' news show that drones would be flying to customer's homes within five years. But that deadline passed due to regulatory hurdles.
The Federal Aviation Administration, which regulates commercial use of drones in the US, did not immediately respond to a request for comment Wednesday. In April, a subsidiary of search giant Google won approval from the FAA to make drone deliveries in parts of Virginia.
Wilke said that the company is working with several regulatory agencies to get approval.
"We expect to do it within months," he said .
Sean Durkin, Head of Enterprise, UK & Ireland, OpenText, said that the increasing role that technology is playing in helping businesses to meet today's end-user expectations and improve customer experience.
"There is something 'cool' or futuristic about having your parcel delivered by a drone," Durkin said. "This latest announcement from Amazon – highlighting the company's plans to deliver by drone within months – is clear proof that this technology is gaining momentum in society.
"New delivery initiatives, like using drones, that tap into innovative technology, such as AI, automation and IOT, will enable companies to deliver the fastest and most friction-free customer experience possible. More than that, they will help brands to drive revenue, better provide for their customers and increase customer loyalty.
"Today's digital generation are used to streamlined, instant services. For businesses in any sector, getting the brand experience right is key to forging a loyal relationship. The secret to creating a special customer journey lies in analysing data to really understand what will improve the customer experience. Brands – such as Amazon – are increasingly recognising that consumers have a preference for fast and flexible delivery options and that drones could provide a way to meet these expectations. Drones have the potential to offer a phenomenally smooth customer experience – going one step further than some of the more 'gimmicky' customer experience concepts which don't necessarily add real value."
Other announcements included a new warehouse sorting system already live in Denver, Colorado that relies on small robotic vehicles topped with miniature conveyor belts that take packages to the correct chutes for delivery.
These, and another robot Amazon unveiled, are updates to the Kiva "drive units" the company acquired years ago.