Bing ads and Samsung launch 3D Search ads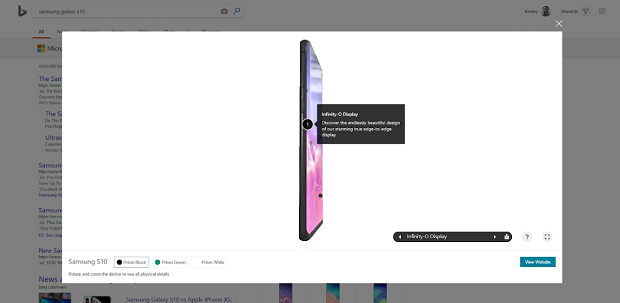 Advertising platform Bing Ads has unveiled a new 3D ad format, created to support the release of the Samsung Galaxy S10 handset, presented exclusively when searching on Bing.
This innovation is a big step forward in improving consumer experience, and follows months of research and collaboration between Bing Ads, Samsung and Starcom.
The bespoke designs were unveiled by Bing, Samsung and agency Starcom – powered by Performics – with the new 3D display adverts presented exclusively when searching for the new device on Bing.
This marks the first time 3D adverts have been developed for desktop search. When consumers search for the Samsung S10 and Samsung S9 via desktop, an option for a 3D ad unit appears. The new advert expands to the full size of the screen, which can then be entirely manipulated by the user by rotating and zooming in on the image. The industry-first format follows months of research and development between Bing Ads, Samsung and Starcom to bring this innovation to market.
Ravleen Beeston, UK Head of Sales, Microsoft Search Advertising, commented, "We are hugely excited about this innovation in search advertising and what it means for the consumer experience. This has been a significant piece of collaboration between Bing, Samsung and Starcom to create this industry-first. These new 3D ads, unique to Bing, herald a new era of search advertising when it comes to displaying products through desktop search since they complement and enhance the experience for consumers looking to engage with a product. Samsung was the ideal partner for us to work with on this project given the company's reputation for developing truly unique and modern technology."
This new, interactive form of ad enables the user to see every element of the Samsung device more clearly: each angle, colourway and feature can be explored in-depth, as well as enabling users to click on an image to generate detailed product information about each device, aiding consumer understanding. The new format allows consumers to give more consideration before purchasing, highlighting a product's USPs more clearly and provides a quicker and more seamless journey from initial search to obtaining the information they need on a product.
Michael Durey, Performance Marketing Lead at Samsung said, "The Samsung Galaxy S10 is our most exciting launch of the year and given consumer interest in the device we wanted a global first execution which would match our ambition. Working with Bing Ads on this industry-shifting format has enabled us to bridge the gap between the digital and offline worlds; the Galaxy S10 is a device which needs to be seen to be experienced. With these new 3D ads, we are bringing the in-store experience of getting hands-on with a device to the digital domain, allowing consumers to explore the Samsung Galaxy S10 and its features in all its glory no matter where they are."
Paul Kasamias, Managing Partner, Starcom, added, "As search becomes more competitive, advertisers need to innovate to stand out from the crowd. We were very pleased to partner with Bing for this global first format, helping Samsung and Starcom cement their position as market-leading innovators."
The new ads are live now and will appear at the top of a webpage when consumers use the same keywords they would normally search with through desktop search, helping to drive consumers to the Samsung website.