Publicis.Sapient unveils 'Sending Machine' to encourage food donations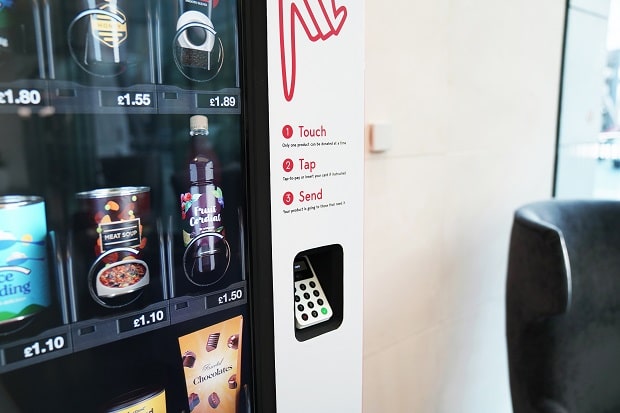 Publicis.Sapient has developed the 'Sending Machine' – a digital vending machine that doesn't dispense food to the purchaser, but instead sends it directly to those who need it most.
As a long-time principal partner of the First Love Foundation (FLF), a Tower Hamlets-based charity that helps residents in crisis, Publicis.Sapient was aware of the scale of the issue on its doorstep. According to FLF, Tower Hamlets is one of the most deprived boroughs in the country and local food banks are under increasing strain to provide for those in need. With demand rocketing at Christmas time, Publicis.Sapient's innovators and engineers put their heads together to find ways to increase donation volume and improve the efficiency of processing those donations.
By exploring the supply and distribution chain of charitable food projects, Publicis.Sapient identified two key issues: food collection points are often placed beyond the checkout in shops and supermarkets, when customers have already completed their purchases; and the donations that food banks do receive don't always match the products that are most needed at the time.
This led to the development of the 'Sending Machine', through which food bank stock data is collected and relayed to the unit. The 'Sending Machine' then displays images of the products (food and non-food) most in need at any one time, and passers-by can quickly purchase and donate those items using contactless payment technology. Information on items purchased through the 'Sending Machine' are sent to an online retailer, for delivery to the food banks.
One of the benefits of the streamlined process is that delivery of the donated products can be synchronized with food bank distribution schedules; by avoiding the need for products to be stored in food bank warehouses before being distributed, the 'Sending Machine' facilitates the distribution of much-needed fresh produce, fruit and vegetables, as well as the more typical long-life products.
The Sending Machine is touring Publicis Groupe offices in December, and Publicis.Sapient is exploring ways to roll it out in other locations in the future.
Fura Johannesdottir, Executive Creative Director at Publicis.Sapient, commented: "We know that through the creative use of tech and data, we can make a big difference to people's lives. First Love Foundation is committed to helping residents in crisis in our own community, and we wanted to support them in the best way we are able. We believe the Sending Machine can be of real help to the charity and community this Christmas."
Publicis.Sapient's 'Sending Machine' idea plays a part in Publicis Groupe's One Table initiative. In 2016, the advertising industry came together to agree a 'Common Ground' commitment to support the United Nations' Sustainable Development Goals. Publicis Groupe went on to form the One Table initiative and mobilise Publicis Groupe's network agencies globally to do what they do best as makers and storytellers to help end hunger.