Airship launches customer journey visualisation tool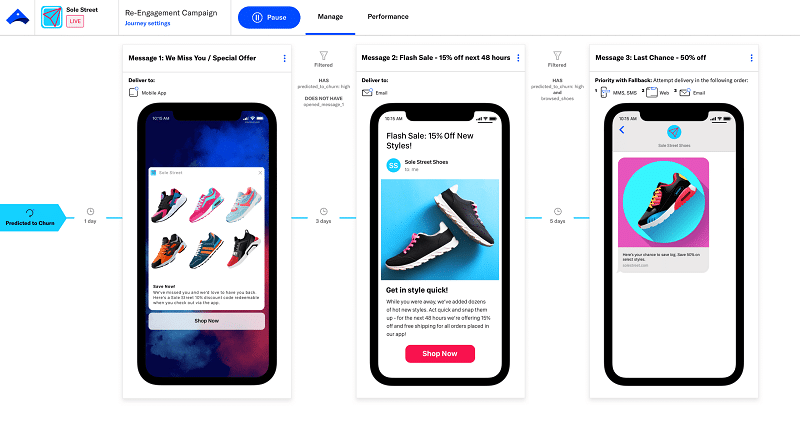 Marketing technology firm Airship has launched a new visual tool within its Journeys product that visualises customer engagement.
The new capability lets marketers compose, automate and optimise the impact of their cross-channel customer experiences. Journey setup is guided and based on goals marketers want people to achieve.
Performance metrics are overlaid on each Airship Journeys view and every underlying message with Performance Analytics offering up to 10 levels of campaign information including a marketer's own reporting IDs. With Airship Journeys everything marketers need to create, evaluate, modify cross-channel journeys is in one intuitive visual UI.
Messages can be composed once and sent through any channel — mobile apps, websites, SMS, email and emerging channels like RCS. Settings for message delivery, audience selection and channel orchestration are simple to use and automatically adjust to real-time customer behavior.
Previously, marketers have been forced to use drag-and-drop journey tools that generate convoluted diagrams with sprawling branches. These diagrams are difficult to create and nearly impossible to understand and modify. Most importantly they do not help marketers analyze how their messages are performing across channels and the entire customer journey.
"We've driven massive success with Airship including a 98 percent success rate encouraging app users to upgrade to the latest version and an abandoned order conversion rate of close to 30 percent, and Airship Journeys makes it even easier for our team to drive valuable engagement across channels — from welcome flows to purchase paths and more," said Chris Hansen, Senior Director, Digital, TGI Fridays. "Airship Journeys makes it simple for anyone on our team to understand our various journeys, how they are connected and how well they are performing, which streamlines our productivity in creating exceptional customer experiences."
Research with more than 80 customers, supported by a survey of nearly 400 respondents, found that today's drag-and-drop journey tools generate convoluted diagrams with sprawling branches that are difficult to create and nearly impossible to understand, analyze and modify. In contrast, Airship Journeys takes advantage of the Customer Engagement Platform's real-time data, personalization, intelligent channel orchestration and predictive machine learning, and configures these as settings, not complex branches. The result is journeys and messages that are easy for anyone in the company to understand, evaluate and modify for improved campaign outcomes and better customer experiences.
Airship also announced enhancements to break down common obstacles to more precise engagement and personalized execution across channels and systems, including, intelligent link features, enhanced trackable SMS messages for marketers and further Salesforce integration.
"With our initial release of Airship Journeys, we completely changed the game for marketers to reach customers in moments that matter, simplifying the complexity of cross-channel customer engagement," said Brett Caine, CEO and president, Airship. "Now with the latest release of Airship Journeys, we're making it easier than ever for marketers to ensure their campaigns will achieve their specific business objectives and provide amazing experiences to their customers."