Facebook extends search ad test to more brands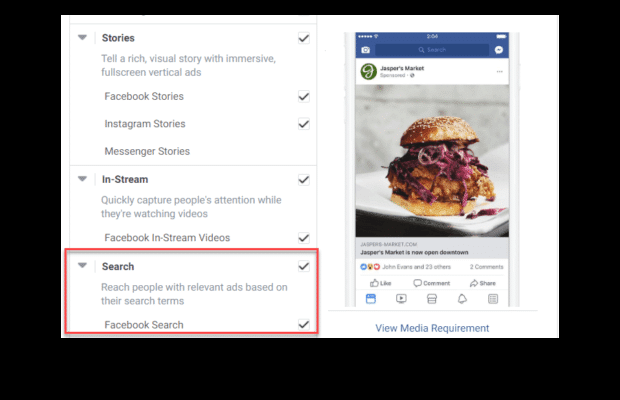 Facebook has opened up its 'search ad' test to more advertisers, after an initial test phase last year.
The format was first rolled out to a select number of businesses in the US in December.
Now, it appears a greater number of advertisers are seeing 'Facebook search' show up as a placement option when setting up ad campaigns.
In December, Facebook gave a small group of automotive and retail advertisers the ability to run ads in the platform's primary search results and Marketplace search results.
Facebook initially said it was a small test and that the company would be evaluating if the ads were beneficial before expanding the placement option.
Several marketers started noticing the search placement option showing up in their accounts this week.
Steven Johns, marketing consultant at Door4, said that they saw the search ad placement option showing up in accounts this week.
Johns shared screenshots on Twitter of the option for both News Feed search ad placements and Marketplace search ads.
— Steven Johns (@stevenjohns21) July 25, 2019
MARKET PLACE !! pic.twitter.com/9XyplZtu6c

— Steven Johns (@stevenjohns21) July 25, 2019
The search ads are still limited to a small group of retail, auto and ecommerce advertisers. The ads will appear in search results for queries deemed to have the same commercial intent — advertisers cannot select keywords or phrases for search ad campaigns.
The ad format is similar to News Feed ads, and include a headline, image and copy text. The ads also include a "Sponsored" tag, and product catalog sales, conversions and traffic objectives are supported.