Global internet use: Asia has most numbers (but Europe has highest penetration)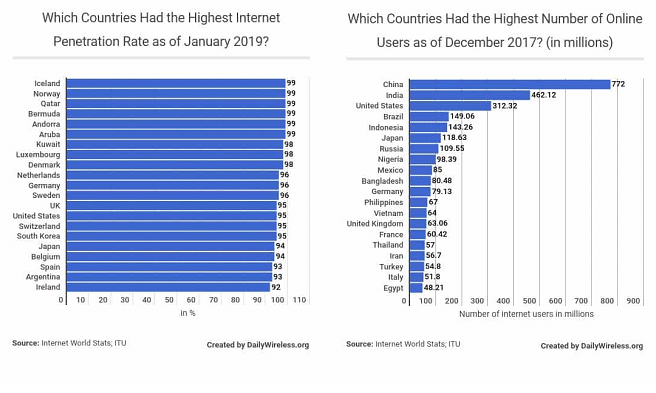 Asia dominates internet use around the world by sheer numbers, but Europe has the highest Internet use per person, according to new research.
The data, from Daily Wireless, is the result of six months' research, gathering 700 essential data-points about internet/ mobile internet usage statistics.
Some highlights:
It was found that as of Q2 of 2017, Gen Z internet users spent an average of 250 minutes on mobile devices while spend only 229 minutes on PC/Laptop/Tablet devices, compared to millenials who spend an average of 223 minutes on mobile devices and 242 minutes on PC/Laptop/Tablet.
It was found as of April 2018 that the most frequently used social networks among teenagers in the U.S. aged 13 to 17 was Snapchat, representing 35% of the respondents frequently using it.
81 percent of millennials check their Twitter account once a day.