Continued transparency concerns "will influence digital ad spend in 2019"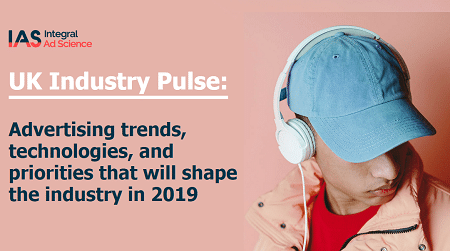 Media quality transparency has been found to be the greatest threat to advertising budgets according to brands (83.3%) and brand safety – delivering ads adjacent to risky ad content – the biggest threat according to agencies (72.7%), according to new research.
Integral Ad Science's 2019 Industry Pulse Report highlights how digital media industry professionals perceived trust, transparency, and innovation in 2018, and the resulting impact this will have on their budgets and focus in 2019.
When it comes to social media campaigns, brand safety is considered as the top quality metric among UK brands and agencies – seven out of 10 buy-side respondents (70.6%) outlined brand safety as the most important metric to assess the quality of social campaigns.
Seven out of 10 (70.2%) of all buy-side respondents agreed that without greater transparency into their social buys, their social spend will be negatively impacted over the next twelve months. Eight out of 10 respondents (84.2%) agreed that social media platforms lack adequate transparency regarding brand risk and viewability measurement. For social giants to retain their current share of advertising spend, they will need to offer greater insights into campaign performance.
Paul Nasse, Managing Director, Strategic Alliances, EMEA at Integral Ad Science, comments: "Due to previous concerns around risky content on social media platforms, the industry has witnessed global brands pull their digital ads as a knee-jerk response. However, many of these advertisers have returned to the platforms, and the digital industry has strengthened its focus on brand safety. Over 2018, the UK saw new initiatives launch such as the Brand Safety Institute and a greater number of agency groups and brands appointed Brand Safety Officers to tackle these growing priorities. It's encouraging to see that this is still top of mind for the industry and I'm hopeful 2019 will see the ecosystem take even bolder steps to address transparency, particularly across social platforms."
The full report can be downloaded here
Methodology
The Report analysed data from 153 digital media professionals, from an online survey that ran between 14 November and 14 December 2018. Responses have been collected from across the industry including: creative media and agencies, publishers, ad tech companies, brands / advertisers, Demand Side Platforms (DSP), networks, exchanges, trading desks, Supply Side Platforms (SSP), consultancies, and other digital media professionals.