French agency Artefact comes to UK with ex-Zenith and Mediacom staff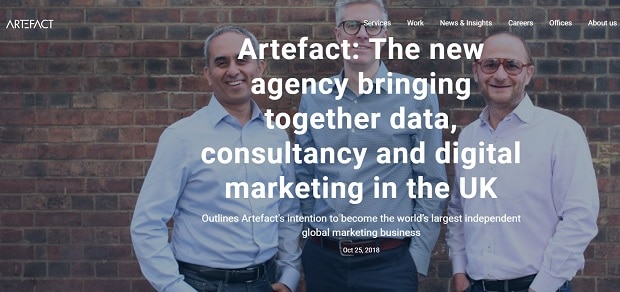 Artefact, Europe's largest independent data-driven marketing group, listed on the French Euronext Stock Exchange, has entered the UK to offer brand clients a genuine alternative to both the traditional agency networks and more recent entrants to the market.
The company brings together 120 UK staff across consultancy, in-house data technology and media activation through a single P&L, throwing down the gauntlet to established ways of working.
Artefact UK is built on the acquisition of 4Ps Marketing together with an additional 30 new hires in data and consultancy, as well as talent and technology embedded from the Paris HQ office. Key clients include Hertz, Nissan, Selfridges, Habitat, The White Company and Wyndham Hotels.
Frédéric Joseph, Artefact's newly appointed global chief activation officer, explains: "We bring something new to a market that's crying out for a fresh approach. While there are businesses emerging that are now starting to challenge conventions, we don't think anyone else has cracked it as yet.
"We describe ourselves as 'marketing engineers' because everything we do starts with technology underpinned by data and AI. In essence we bring an engineering mindset combined with a management consultancy approach to digital marketing."
Building on its consultancy heritage in France, Artefact reinvented itself as a fully integrated global marketing business in July 2017. It is working on a three-year plan designed to generate €100m GM by 2020. The company saw 50 per cent year-on-year growth between H1 2017-H1 2018, with currently over 1,000 employees operating from 26 offices in 18 countries, around 15% of staff are technologists.
The company has attracted some of the most respected senior people in the industry to deliver on its growth plans:
Tom Cijffers joins Artefact as UK CEO. He was chief client officer at MediaCom USA for the past three years and prior to that UK MD at Zenith. Joseph and Cijffers already have a strong working relationship having spent 10 years as colleagues at Publicis.
Tom Cijffers says: "We're free of the constraints of the traditional holding groups; we work with a single P&L in complete transparency and trust. We also develop our own tech, with 10 percent of our annual net income reinvested into R&D. As such, we occupy a strategic middle ground between the networks and the management consultancies, and unlike some of the newer players, we are actually doing all of this now.
Ashish Sidhra, partner consulting & data, has been recruited to head the consulting and data division in London. Sidhra has previously held senior roles at businesses including Capgemini Consulting, BearingPoint and Telefonica O2. His remit is to develop Artefact's data science and AI consulting offer for UK-based and global clients.
Ashish Sidhra comments: "With consulting built into our DNA, we are an integrated team of activation channels experts, data scientists, technologists, management consultants and creatives working together on a daily basis. This approach gives us the flexibility to build teams tailored to the specific needs of each client. Artefact offers a disruptive new vision for how the sector can operate."
Frédéric Joseph concludes: "The move into the UK provides a strong statement of intent for the next stage in Artefact's evolution: we want to help the world's biggest brands achieve their ambitions and shake up the sector in the process. While we already have a strong presence in mainland Europe, we have every intention of becoming the biggest indie in the world."