Google debuts 'Ad Strength' metric to help improve ad copy relevance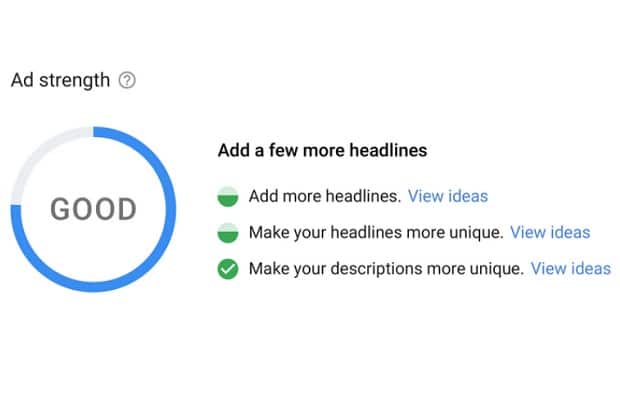 Google has launched a new "ad strength" metric that measures the relevance, quantity and diversity of ad copy.
The metric is designed to help advertisers gauge the effectiveness of campaigns.
'Ad Strength' gives marketers a barometer to measure whether the content in the ad ranges from "poor" to "excellent". Combined with actionable feedback, the new tool will be available in early September and in the responsive search ad platform in the next few weeks.
In terms of ensuring strong campaign performance, Google suggests that advertisers use multiple distinct headlines, descriptions and other elements to help its machine learning features in producing a large number of ad combinations.
Google recommends creating at least five headlines for responsive search ads and up to 15 images and five logos, headlines and descriptions per ad for responsive display ads.
Ninety-one percent of mobile users made a purchase or planned to purchase that were served ads that they considered to be relevant, according to data in the post.
Google is also allowing advertisers to preview ad combinations as they are built and view reporting for headlines, descriptions and top combinations.

As an example cited by Google, Apartments.com saw a 10% increase in clicks after creating ads that were more relevant at key moments in the rental process. ForRent.com, an Apartments.com site, had a 16% lift in clicks.
The platform also enables marketers to view reporting for headlines, descriptions, and top combinations to help them see what is showing up most often on the search results page.
Best practices, for example, means that all search ads groups should contain three or more ads, including a responsive search ad. Marketers can pair them with three ad extensions and the 'Optimize' ad rotation to make sure ads are as relevant as possible.
For app marketers using Universal App campaigns, Google's machine learning automatically combines the creative assets with content from the app store page to create personalized, relevant ads.
Marketers looking for more guidance can find information in an online course to help design and optimize creative for a Universal App campaign.