Tencent Music strengthens ties with Chinese TV giant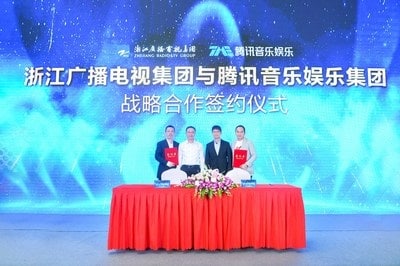 Tencent Music Entertainment Group (TME) and Zhejiang Radio & TV Group (ZRTG) have agreed to strengthen their three-year strategic partnership, deepening their commitment to upgrading the content and distribution channels of both platforms, breaking the collaborative model between TV network and internet enterprise.
The cooperation between the two technology and entertainment giants will bring diverse services and upgraded interactive features to users. Over the next three years, TME and ZRTG will carry out experiments on creating songs for movies and television and produce various original music shows, using the advantages of both platforms to help music brands grow. The partnership will also explore creative collaboration opportunities in the areas of advertising and marketing.
Cussion Pang, CEO of Tencent Music Entertainment Group, explained that the in-depth partnership with ZRTG will strengthen cooperation for both Tencent Music Entertainment and the TV network. "It will bring new opportunities for both parties in providing entertainment by more channels, creating cooperative production model with new Intellectual Properties (IPs), generating ideas for program cooperation and exploiting new advertising opportunities, which will enrich our content, and extend the eco-chain of the music industry, opening an amazing space for music and television."
Lv Jianchu, President (Chairman) of ZRTG, said that both parties are excited about the partnership, as it provides more opportunities to develop and enhance the value of good content and Intellectual Properties (IPs). "As we move forward together, we'll develop programs with an eye towards coordinating the distribution of our IP across multiple media platforms, creating synergies between our TV network and Tencent Music Entertainment."
While TME and ZRTG have collaborated at different levels over the years, achieving significant success in connecting the television with new media platforms, this new strategic partnership between TME and ZRTG is meant to provide new inspiration for the crossover of internet and traditional media, enabling both companies to succeed in content, channels and user experience.
As the leader in music-themed content production, ZRTG has developed popular variety of shows such as Sing! China, Sound of My Dream and New Year's Concert. Collaboration with TME comes naturally for them because their strategies for enhancing the value of their content align.
At the same time, TME has established a platform matrix for music with QQ Music, Kugou Music, Kuwo Music, Wesing and Kugou Live Streaming, through which users can enjoy synchronized content streaming with no lagging, community engagement, and live karaoke and live broadcast with real-time interaction. With their focus on innovation and online distribution, TME can expand the coverage and influence of ZRTG's content.