TikTok picks Poplar for augmented reality push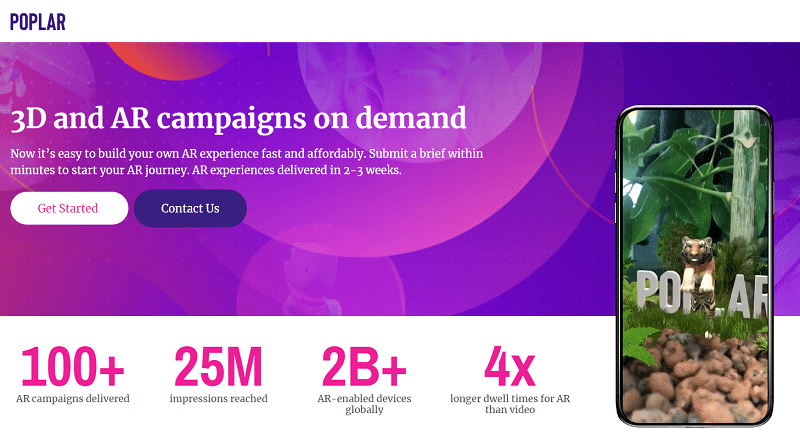 3D and AR creative platform, Poplar has been selected as one of TikTok's global AR content creation partners.
The association follows the launch of TikTok's Augmented Reality Branded Effects Partner Programme, which will see Poplar working directly with the short-form mobile video company to scale creativity and content production amongst brands.
This announcement follows the surge in users for TikTok with more brands than ever looking to engage with the game-changing platform through revolutionary 2D, 3D and AR effects.
As a partner, Poplar will have exclusive access to the latest TikTok Branded Effects studio software, enabling it to produce advanced AR effects for the platform, including its newly launched Branded Scan, as well as early access to exclusive new products. Poplar will be one of the few companies able to offer AR Branded Effects to marketers and advertisers, with TikTok matching suitable clients with the London-based outfit.
This partnership follows Poplar's $2.6m raise earlier this month. Poplar was selected as one of TikTok's partners due to its technology, expertise and its platform-agnostic approach to AR content creation. Its network of over 1,700 trusted 3D and AR global content creators makes it uniquely able to scale as required for any project.
Melissa Yang, Head of Ecosystem Partnerships, Global Business Solutions at TikTok, said: "Branded Effects give brands the opportunity to interact with Tiktok users in a way that's engaging and fun.
"We're thrilled to partner with the most creative leaders in 2D and 3D development to bring this playful, immersive experience to our brand partners and the broader TikTok community."
On the partnership, Poplar co-founder and CEO David Ripert added: "Through TikTok's AR Branded Effects Partner Programme, Poplar will assist in scaling TikTok's AR content creation made available on the platform, by working with interested brands and agencies, including our existing roster of top global brands like Nestlé, L'Oréal, and Samsung. "TikTok is one of the most exciting social media networks, thanks to its innovative use of AR and its exploding global audience. Having delivered more than 130 AR campaigns through our creative platform in the past two years, we are incredibly excited to be adding TikTok as a key partner platform and to empower brands to spread AR experiences even further."