Traditional TV advertising value 'will collapse by 2023'- report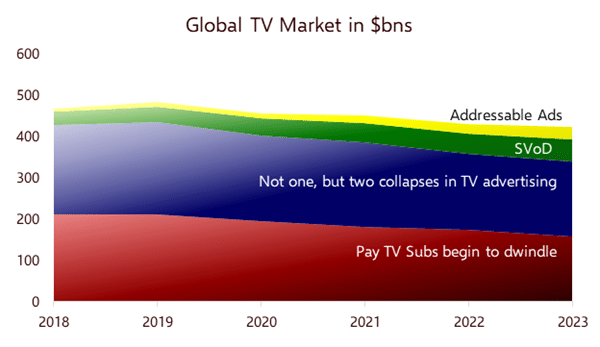 A new report warns there will be not one but two collapses in traditional TV advertising in the coming years, as cord-cutters turn away from subscription bundles.
Rethink Technology Research , a research and analyst firm that focuses on the IoT, video, and wireless markets, says its Rethink TV service has forecast major price corrections in Broadcast TV advertising coming over the next five years.
This is according to its new Report "The Year of TV living Dangerously – How and when traditional TV advertising value collapses,".
Rethink TV sees US broadcast TV advertising taking the hit first, a full 20% softening in price, only cushioned by some improved uptake of Addressable advertising. This fall will occur over 2019 and 2020, caused by the rising tide of SVoD and vMVPD viewing, which sees broadcast ratings plummet even further.
A secondary hit will happen when major US sports begin to go online, and in some cases, direct to consumer, lowering the interest in live broadcasts. European advertising markets will mimic this behavior, and slowly so will all TV advertising markets around the world.
Rethink Technology Research has modelled the likely effect of SVoD and original content emergence on pay TV subscriptions, and on ratings which essentially drive broadcast advertising revenues.
US broadcasters have been making their advertising more and more expensive to satisfy their shareholders, but the rate of price increases cannot be sustained.
This will come home to roost in a collapse in advertising value late in 2019 and early in 2020. At the same time, more US homes will cut the cord, resulting in fewer pay TV homes, and more and more advertising opportunities with long form digital Virtual MVPDs and others.
Fewer viewings, watched less often leads to a weak market and uncertainty and this in turn leads to sports rights shifting to online properties and in some cases "going it alone" in a direct-to-consumer strategy.
This in turn leads to a further ratings collapse and more cord cutting, and a fragmenting of advertising opportunities which plays to the advantage of the online duopoly – YouTube and Facebook, and undermines advertising value.
The Graph above shows how hard this fall in value will bite on a global level.
Methodology
The methodology for this report is slightly different from the usual Rethink TV, because it is based on summing up the likely disruption caused by the progress of all of the past year's technology forecasts. We have used data from a number of the 2018 forecasts.
Additionally we generated a new forecast for TV advertising globally, and this was carried out as a linear extension to current results, and another the development of programmatic and addressable advertising, and another for SVoD revenues.
Companies mentioned in this report include:
ABC, Alibaba, Amazon, Apple, AT&T, Baidu, BAMTech, BBC, beIN Sports, Benfica TV, Bundesliga, CBS, Comcast, DAZN, Deutsche Telekom, DirecTV, Discovery, Disney, Dorna Sports, ESPN, Facebook, fobuTV, Formula 1, Fox, Gracenote, GolTV, Google, Hulu, International Tennis Federation, iQiyi, Major League Baseball, MoffettNathanson, Movistar, NBC, NFL, Nielsen, Netflix, Orange, ProSiebenSat, Roku, Showtime, Sky, Telefonica, Tencent, Time Warner, Twenty First Century Fox, Ubisoft, Univision Networks, Verizon, Vodafone, Yokou, YouTube, YouView Shaw, South Korea Telecom, Verizon