Umbro hires Absurd to design global web platform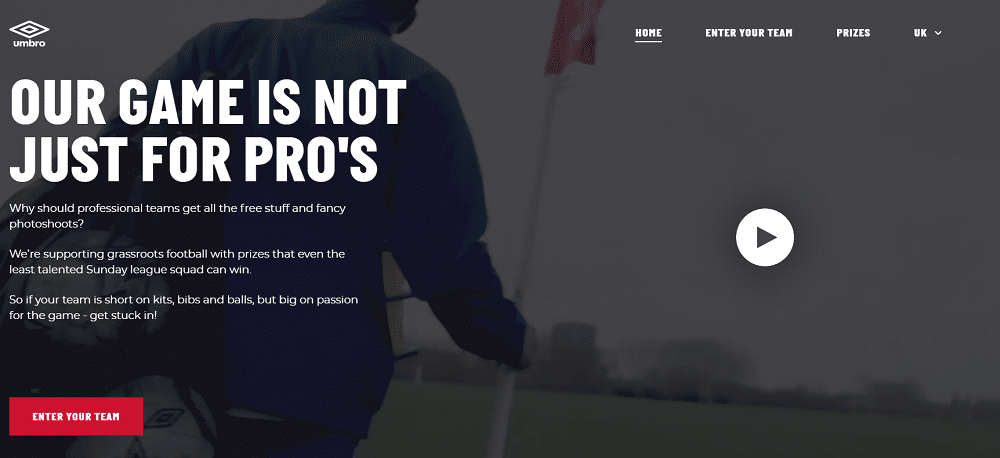 Sportswear brand Umbro has appointed Manchester agency Absurd as its digital partner to create a new global web platform, which will replace its existing site.
The new CMS will give Umbro centralised governance over brand content across its global sites, with the capability to implement updates and campaigns with greater efficiency and consistency.
To kick off the site revamp, new user insight and audience research, carried out by Absurd as part of its approach to development and design, will lead to a more consumer-centric experience. While showcasing brand and product stories, the site will also focus on conversion of sales by driving consumers to local ecommerce platforms around the globe, depending on where the consumer is browsing from.
Helene Hope, Umbro's Head of Global Brand Marketing, said: "Our aim is to create a site that communicates brand and product stories to our target consumer in an exciting and engaging way, bringing our brand position and tone to life. Working with our teams around the world and drawing on their initiatives, we will create a truly global, varied and multi-dimensional narrative that is a cross-over between social, webzine and e-tail."
The site will be based on a CMS that allows the central Umbro team to easily manage content from around the world, using machine learning and Microsoft Azure to translate content that can then be reviewed by teams in other markets.
Absurd was awarded the global design and build project following its successful implementation of two microsites for Umbro earlier this year, which will be re-launched again post-lockdown. https://notjustforpros.umbro.com/en-gb/ supports grassroots football by offering teams the chance to win new kits, equipment and even a photoshoot. Teams simply submit a 30 second video via the microsite to enter.
Absurd also has extensive experience of global projects and a proven track record of creating highly engaging digital experiences. Oliver Bailey, co-founder of Absurd, says: "This is an exciting win for the agency and we are looking forward to working with Umbro to further raise their standards across the brand's digital portfolio.
"Umbro is a huge Manchester success story, having operated from the region since 1924, and it's great that they've selected to work with our Manchester based team for this prestigious programme of digital transformation."
Umbro.com / thisisabsurd.com