Virals of the year: The New York Times "The Truth Is Hard to Find"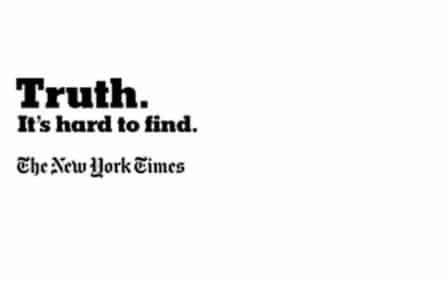 2017 was a year of mighty political upheaval, and this Oscars ad series from The New York Times urged consumers to value, and pay for, the truth that journalism uncovers.
The New York Times wanted to get more subscribers by highlighting the quality of its journalism- and in this case, it's photo journalism. we always see the great shot that lands on the front page, but photographers snap thousands of frames, so what could we learn about the process by seeing the photos around that one image? And could they use those photos to tell a simple story of dedication? Gordon and his team then worked with the Times to figure out which stories might best fit the idea.
The New York Times debuted its first-ever Oscars ad, a simple spot–just black type on a white screen–that came down to one conclusion: The truth is hard, and it's more important than ever.
Working with agency Droga 5, the newspaper launched the next phase of its "Truth Is Hard" campaign by giving us a peek into the process behind some of the striking images we see in its pages and online every day.
Created by agency Droga5 and directed by Darren Aronofsky, the ads took the viewer on a photographic journey behind two stories, accompanied by commentary from Times photojournalists Tyler Hicks and Bryan Denton, from their time covering the refugee crisis in Greece and ISIS in Iraq, respectively.