Winners and losers on Google: Video focus boosts YouTube, Fox and BBC on organic search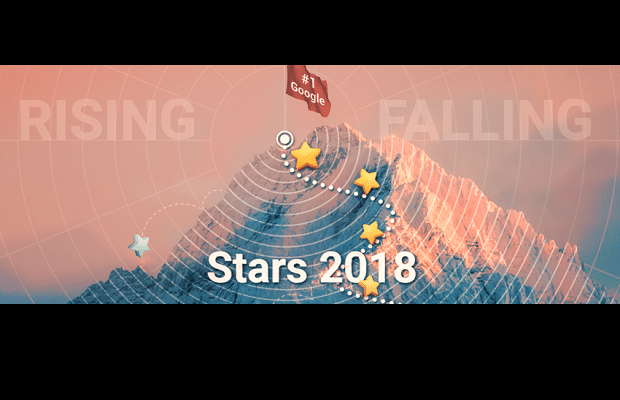 Google's love video content meant YouTube, Fox, BBC and DailyMotion were among the big winners in US organic search in 2018, according to new analysis of winners and losers in search.
Websites with a heavy focus on video content were some of the biggest winners in organic search performance¹ on Google.com in 2018 according to new data from Searchmetrics. The analysis (which appears on the company's blog) lists YouTube as the biggest winner, enjoying a 79 percent increase in search performance during the year. Others sites including fox.com, pbs.com, bbc.co.uk and dailymotion.com were also boosted by the increasing visibility of video in Google's results over the year.
The main reason? The major Google Update in June which saw video carousels being displayed in the desktop search results. The new carousel format, which allows searchers to click and toggle through a larger number of videos, has coincided with an increase in the number of search queries for which Google returns a video in the results. For example search results that included at least one video integration climbed from 22% at the start of the year to a high of 74% in late September.
Other findings from the analysis:
Winners and Losers by industry sector: Media & Events sector made up 42% of winners
To analyze search performance by industry, Searchmetrics categorized the 250 domains with the biggest increase and the 250 with the biggest decrease in search performance by industry. 42% of 2018's most successful websites belong to the category "Media & Events" including the likes of youtube.com and cnbc.com, 8% were in Health and 6% with E-Commerce (e.g. amazon.com, etsy.com).
In the analysis of losers, 30% were in Media & Events industry (e.g. huffingtonpost.com and buzzfeed.com), 8% in Health and 14% E-Commerce (e.g. groupon.com and apple.com)
Google's move to make search results more trustworthy impacted health sites such as webmd and medicinenet
The search performance of websites in the health industry experienced a lot of turbulence in 2018 with webmd.com the biggest winner (up 21%) in the sector and medicinenet.com (down 71%) the biggest loser. In fact, 8% of the winners and the losers in Searchmetrics' analysis are websites from the health industry.
Online properties covering health and medical topics were affected by Google's E-A-T (Expertise, Authority & Trust) Updates in the second half of the year.
These updates were about improving the quality of content appearing for searches in sectors where poor quality information could have a significant impact on a searcher's life, for example sites that provide medical and financial advice.
These are industry niches in which Google takes the quality of each site very seriously, since poor information could have a significant impact on a searcher's life. Hence the search engine calls these sites "Your Money or Your Life" websites in its Quality Rater Guidelines (guidelines used by thousands of people that Google employs to rate the quality of sites that appear in search results).
Sites that were spun off from About.com enjoyed great organic search success in 2018
Websites that are very strongly focused around a single theme or topic tend to perform better in search. Which is why About.com's strategy of splitting off its domain into several separate sites each covering its own niche has enabled some of those sites to make it onto the list of the biggest winners in search on Google in 2018.
In particular, verywellhealth.com, verywellmind.com, verywellfamily.com, thebalancecareers.com, thebalancesmb.com and thespruceeats.com (all formerly part of the About.com universe) have seen big increases in search performance.
This suggests that Google rewards clearly clustered content silos that combine excellent content with a top-drawer user experience. Domains that want to improve their performance should consider reworking their content and optimize the user experience around a clearly defined niche.

For more analysis, insights and charts about Searchmetrics' review of the winners and losers in search in 2018 visit the company's blog post here.