World Federation of Advertisers launches guide on data ethics for brands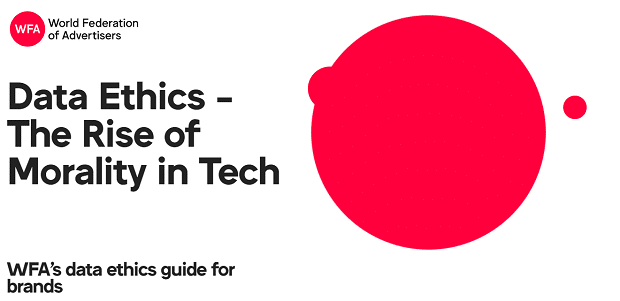 The World Federation of Advertisers has launched a guide for brands on data ethics in advertising, designed to provide clear actions and practical guidance to some of the world's biggest companies.
Data Ethics – The Rise of Morality in Technology sets out what marketers need to consider to ensure their organisation always uses data ethically and the actions they can take to promote the issue across their companies.
This comes at a time when new research shows that 74% of CMOs say data ethics will be more important to their role in the next five years and issues around data collection and privacy have risen up the agenda in light of COVID-19.
Published on the second anniversary of implementation of the EU's GDPR regulations, the goal is to encourage companies to go beyond simply following the rules on data privacy by getting them to see the vital importance of addressing the gap between what they can do and what they should do.
The importance of data ethics is backed by a new WFA survey of senior executives at some of the world's biggest brand owners, which reveals that 82% would consider leaving their current employer if they felt the approach to data was not ethical. Twenty-six percent of the 147 respondents – representing companies spending a global total of $55bn on marketing communications – have already felt uncomfortable about the use of data at some time during their careers.
An essential element of using data in an ethical way is the cultural transformation required not just to push it up the corporate ladder but also to ensure that colleagues think carefully about where data comes from, whether it's truly representative and if there any issues raised via the use of that data. Just 48% of respondents to the WFA's survey said their company had a data ethics policy right now.
"The benefits and critical importance of data-enabled tech have been more evident of late than ever before. But we should not default to an attitude of "because we can, we should" in terms of data usage. The ad industry needs to have a conversation on data that distinguishes 'the right to do something' from 'doing the right thing'. This must-read report will help brands start to navigate complex questions which will ultimately give them a competitive edge in an increasingly digital future", said Stephan Loerke, CEO of the WFA.
Data Ethics – The Rise of Morality in Technology is based on a year's work by the WFA's Data Ethics Board, chaired by Unilever's General Counsel – Global Marketing and Media, Jamie Barnard. The board, whose members include senior experts from 19 of the world's biggest companies including AB InBev, Diageo, Ferrero, Ikea, L'Oréal, Mars, Mastercard, P&G, Shell, Unilever and Visa, has looked in detail at the issues raised by data and technology and the impact that taking an ethical approach to data can have on companies and people, both internally and outside the organisation.
"Lockdown has re-emphasised to all of us the importance and value of technology. So there's no better time to review our data ethics and look to design a digital future that enhances people's lives and protects them in equal measure. I hope this report will be an important step towards striking this balance," said Jamie Barnard, General Counsel – Global Marketing and Media, Unilever and author of the report.
The guide outlines four key principles that should underpin a data ethics approach – respect, fairness, accountability and transparency:
• Respect: all data usage should respect the people behind the data and companies need to strive to understand the interests of all parties and use consumer data to improve people's lives.
• Fairness: data usage should aim to be inclusive, acknowledge diversity and eliminate bias rather than dividing groups. Brands need to examine their data sets, mindsets and governance approach to ensure they are inclusive in the way they use data.
• Accountability: Consumers expect companies to have open and transparent data practices backed up by robust global and local governance. The same standards should also be applied across partners, suppliers, publishers and platforms.
• Transparency: Although the online advertising ecosystem is complex, brands should apply transparency principles and work towards more open and honest data practices, particularly as AI and machine-learning approaches start to automate decisions.
These four principles will form the basis for future work by the Data Ethics Board, as the WFA works to assist senior marketers in navigating this critical emerging issue.
Raja Rajamannar, Chief Marketing and Communications Officer, Mastercard & WFA President: "The advertising industry is at a crucial juncture right now. Regulatory pressures around how companies collect and use personal data are mounting and public opinion is shifting. More than ever, people expect full transparency, control and choice over how their data is shared and used by companies. Any brands that ignore this shift will be left behind. We, as an industry, need to take a proactive approach and demonstrate to consumers that we respect them and their data. Data ethics is central to this: how can we as brands engage better with consumers to develop trust in a digital world?"
Conny Braams, Chief Digital and Marketing Officer, Unilever: "The advertising, marketing and media industry must look beyond regulation and champion the ethical use of consumer data. We have a responsibility to inspire trust in our brands and our use of data, and raise ethical standards to drive positive change in society. This paper outlines the purpose-driven leadership required from advertisers, platforms, publishers and developers to put people's rights, interests and expectations first. It's great to see the WFA Data Ethics Board bring the industry together and share best practice in such a critical, complex and evolving space."
Barbara Martin Coppola, Chief Digital Officer, IKEA Retail (Ingka Group): "It is crucial for businesses to think beyond legal compliance and consider ethical aspects when it comes to consumer data. It's no longer good enough to think only about what we can do with people's data", the question must be what should we do.
Lubomira Rochet, Chief Digital Officer, L'Oréal: "Data ethics and the ethics of algorithms are crucial challenges for our digital economies. In a world saturated with choices and opportunities, data comes with positive sides, namely the ability for brands to personalise their interactions with their consumers and to provide uniquely customized experiences to them. But for this promise to be fulfilled we also need to mobilize as an industry to ensure that we handle data collection and use with the highest level of transparency and ethics. Consumers' trust is the number one currency for our brands and the reason why we need to rethink data sharing as true value exchange. We need the entire industry to shift towards a more positive, transparent approach to data."
Data Ethics – The Rise of Morality in Technology can be downloaded at www.wfanet.org/dataethics.
Source: www.wfanet.org