Google's search algorithm updates of 2017 [INFOGRAPHIC]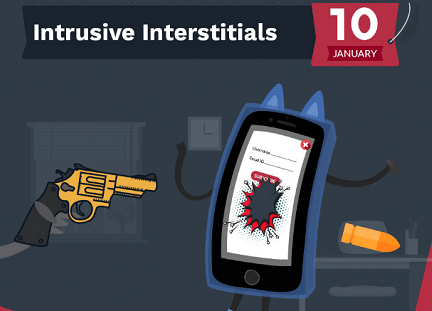 From extra interstitials to ramped up meta descriptions, this infographic contains the major Google search algorithm updates of 2017.
2017 was another tumultuous year for webmasters and SEO industry professionals, who experienced fluctuations in the rankings of their websites, and in the worst case, bore the brunt of penalties from the search engine giant.
Some websites gained favor from it as well. This of course, was due to Google's algorithm updates, which remained majorly unannounced.
Which were the major algorithm brought forth by Google in 2017?
In what way did they affect the industry professionals?
This infographic contains the major Google search algorithm updates of 2017, which include:
Intrusive Interstitials – This update came down heavily on intrusive ads that hampered user experience. The update followed a warning and there was a confirmation about the roll out as well.
Unconfirmed February Updates – These updates affected the PBNs and driven by the content quality. Websites that included broken menus, lacked mobile optimization and had excessive pagination took the hit.
Fred Update – Hit low-quality content and the name was given to the update in jest by Gary Ilyes!
Unconfirmed May Update – Glenn Gabe in mid-May smelled a core update cooking whereas Rank Ranger remarked on the wide fluctuations seen on ecommerce website rankings.
Unconfirmed June Update – Movements were noticed in different country domains of Google and caused rank tracking tools to heat up.
Unconfirmed August Update – This was a volatile update that hit sites with poor UX, SEO issues, disruptive advertising and other quality drawbacks.
Hawk – This was an out and out local update, which removed the changes brought into effect by Possum. Google removed a filter, which prevented local businesses that shared an address or building from appearing as a part of the same pack!
Local Results on Google ccTLDs – This update made search results applicable to the user's location. With this change in place, searchers were unable to access the international results by changing the ccTLD of the search engine.
Increased Length of Meta Description – Google increased meta description length from 160 characters to 230 characters. Longer snippets were also noticed by many SEO professionals.
Maccabees – The Maccabees update hit websites, which had doorway pages that targeted a multitude of subcategories/locations with keyword permutations in content.
Google's Biggest Search Algorithm Updates Of 2017 – a visual representation by E2M
Author bio:
Priyadarshan Chomal (twitter: @Priyadarshan_l) is a Digital Marketing Analyst working with E2M. He specializes in SEO and Digital Marketing. He is a keen learner and likes to be the first one to know about Google updates for penalty recovery. Coming up with innovative social media and promotional strategies are his other interests.