Virtual Christmas: 49% of parents are planning a Zoom party over festive season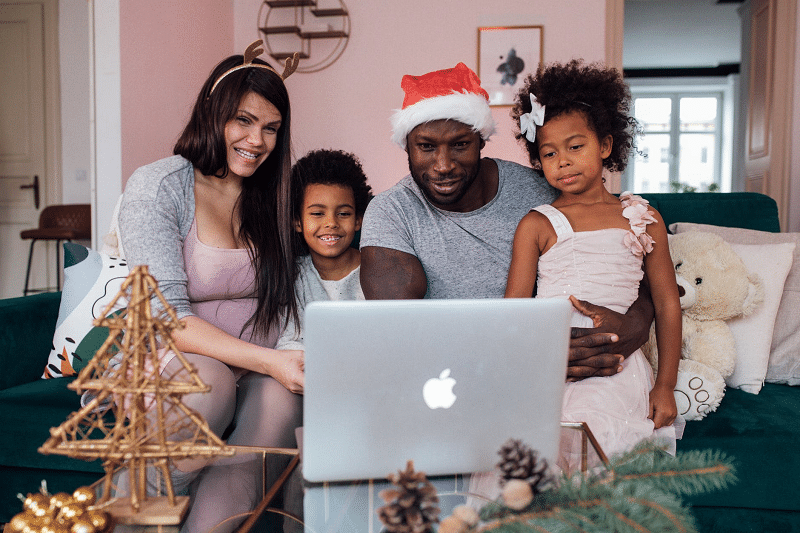 Nealry half (49%) of all parents are planning a Zoom party this Christmas and 6 in 10 parents are worried about their children's social development, according to new research.
Christmas research (carried out across 1,000 UK parents) from family-focused marketing agency, Kids Industries (KI), has today revealed key digital trends for families this festive season.
Gary Pope, CEO and Co-Founder at KI commented: "Whilst 62 per cent of UK parents agree that technology has brought them closer together as a family this year and almost 80 per cent say that it has helped their children learn, it is evident from this research that concerns remain about their children's social development and whether digital socialising is hindering healthy social relationships."
Key research findings:
Digital togetherness
Almost half (49 per cent) of parents are planning on a video/Zoom call Christmas party this year.
62 per cent of parents agree technology has brought them closer together as a family this year.
Technology has helped their children to learn this year according to 78 per cent of parents. The proportion of those who agree increases slightly with child age and parents of boys are more likely to say they "strongly agree" than parents of girls (28 per cent compared with 22 per cent).
7 in 10 are spending more time using technology together, with 29 per cent spending a lot more time this year.
59 per cent of parents are excited by new technology – with 2 in every 10 parents strongly agreeing that they're excited.
Parental concerns
Over half (51 per cent) of parents are concerned about their child's education – with older parents (over the age of 35) more likely to be concerned (54 per cent are concerned vs 48 per cent of those aged under 35).
A child's social life is a concern to 6 in 10 parents.
Two thirds of parents say they want to play a more active role in their child's/children's education. They are more likely to agree to this so if they have a child aged between 1-6 (69 per cent) than 7-8 (58 per cent).
Gary Pope continued: "From previous research we've carried out, we know that co-consumption of content is great for families – it brings them together and strengthens bonds.
"The extraordinary circumstances we found ourselves in this year, has perhaps unsurprisingly led to more families using technology together and the next step for brands is to work out how to truly create experiences for co-consumption. Some might argue whether it's even worth doing given this situation could be a one-off, however what is clear is that parents want to spend more time together with their children – this was true before the pandemic and will remain true after.
"It is likely that COVID-19 has helped to create some bridges in digital co-consumption that weren't previously there and accelerated adoption, so it's important that brands take a considered approach to development and better understand what a family want from an experience. It's not always after all a win-win – it's actually very hard to create content and platforms that everyone enjoys equally. Remember though, that not everyone has to enjoy it – just being there when others are having fun is often enough."
Source: www.kidsindustries.com