Craft Gin Club hires Phillip F***ing Schofield for Christmas campaign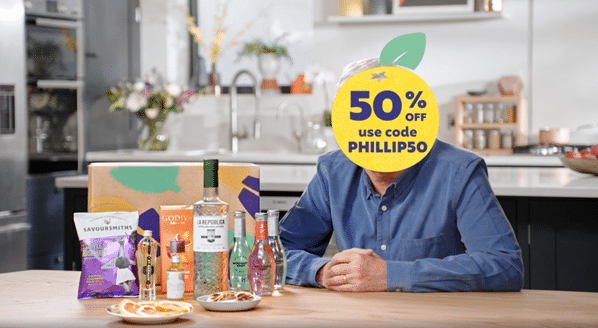 TV presenter Phillip Schofield has partnered with one gin subscription service, Craft Gin Club for a series of online video ads in the run-up to Christmas, as well as writing his own tongue in cheek column for the brand's monthly magazine, Ginned!
The first video, an online ad created and produced by Recipe, shows Schofield unleashing his inner diva. When the camera is more focused on the contents of the Craft Gin Club box than his pretty face, Phillip does whatever it takes to make sure the gin does not overshadow him, resulting in him lashing out with, "Don't mess with me, I'm Phillip f***ing Schofield!"
From December, Craft Gin Club members can read his column filled with personal anecdotes, as well as view a video series where Philip will be tasked with making gin cocktail recipes each month. The first challenge is named 'The Christmas Pudding Martini.'
Schofield said: "It's no secret that I'm a big fan of gin so partnering with Craft Gin Club was a no brainer. I have been a member for over a year now and I love receiving my box full of surprises every month. Shooting this video was extremely fun, it's not often I get to stomp my foot and throw a diva-style strop; I felt a bit sorry for the cameraman toward the end!"
Alex Petrogiannis, marketing director at Craft Gin Club said on the partnership: "Phillip has been praising our boxes on his social media for over a year so it's truly exciting to officially welcome him as our brand ambassador. He's such a natural fit for Craft Gin Club."
Started in 2015 by founders Jon Hulme and John Burke with a mission to reinvent the way gin lovers discover and enjoy new gins, all while supporting amazing craft producers, Craft Gin Club has amassed over 60,000 members and 700,000 fans onsocial media.