Facebook fail: Zuckerberg sorry for 'tasteless' VR tour of Puerto Rico devastation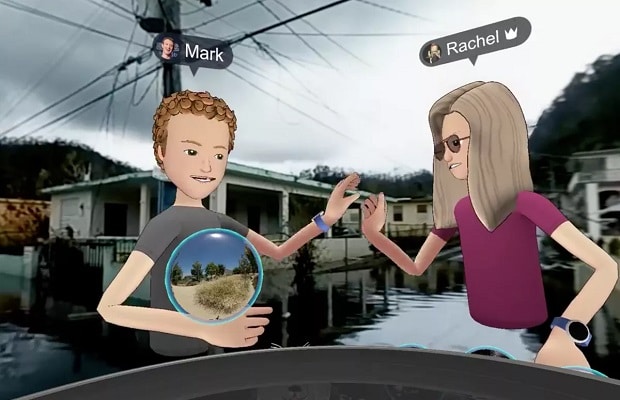 Mark Zuckerberg has apologised after taking part in a controversial Facebook Live video discussing his company's efforts to aid Puerto Rico's recovery from hurricane Maria.
This week, Zuckerberg used the company's VR app Spaces to tour through an NPR-produced 360 video of Puerto Rico.
The Facebook founder's cartoon avatar directed attention towards various features of Puerto Rico's destruction while another Facebook executive remarked "it's crazy to feel like you're in the middle of it."
At one point, Zuckerberg virtually high-fives the avatar of a Facebook staffer while 'standing' in front of a flooded home.
"Do you want to teleport somewhere else?" Zuckerberg's VR avatar asked as he wrapped up his conversation about Puerto Rico. "Yeah maybe back to California?" another executive answered.
Zuckerberg took the opportunity to talk about some of the ways Facebook was helping with disaster relief, including donating $1.5m and working with the Red Cross to build "population maps" so that relief organisations know where the most help is needed.
"You can see that we can really feel like we're here," said Franklin.
"This street is really flooded," added Mark.
View the video here:
After a moment of reflection, the pair decided to "teleport" back to California and switch gears to promote the company's upcoming Oculus developer conference by showing a 360-degree video from the 2016 event. They then made a virtual journey to the moon, where Franklin marveled at the "absolutely lovely" view of the Milky Way.
After many people criticised the VR broadcast in the comments on his Facebook profile, Zuckerberg apologised.
"One of the most powerful features of VR is empathy. My goal here was to show how VR can raise awareness and help us see what's happening in different parts of the world," he said, adding that he also wanted to publicize Facebook's partnership with the Red Cross.
"Reading some of the comments, I realize this wasn't clear, and I'm sorry to anyone this offended."