Facebook lets users see and control 'off-site' ad tracking with new privacy tool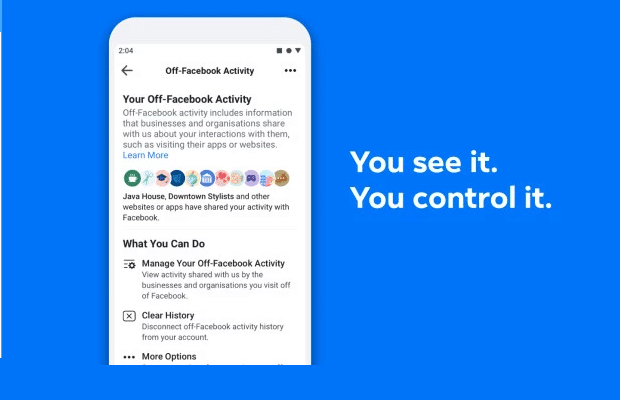 Facebook has launched a new privacy tool "Off-Facebook Activity" in a bid to win back the trust of its users after the Cambridge Analytica data scandal last year.
The tool lets users see for the first time the extent of Facebook's tracking apparatus across the wider web, and gives them some power to control what the company learns about them from that surveillance.
The new feature will not delete anything from Facebook's servers, instead simply "disconnecting" data from an individual user's account.
The feature lets users clear "Off-Facebook Activity" data which has been linked to their account based on how they use other websites.
Following the new update, Facebook will let users disconnect future off-Facebook activity from their account, either in its entirety or just for specific apps and websites.
Users can monitor "Off-Facebook Activity" via Facebook settings.
It confirmed the new activity tool will initially be introduced for users in Ireland, South Korea and Spain. It'll be rolled out to the rest of the world "in the coming months".
Users will be able to see individual businesses and what data they have access to. The social network added it expects the feature "could have some impact on our business", but said it believed giving people control over their data is more important.
"Many apps and websites are free because they're supported by online advertising. And to reach people who are more likely to care about what they are selling, businesses often share data about people's interactions on their websites with ad platforms and other services," Facebook said.
"This is how much of the internet works, but given that the average person with a smartphone has more than 80 apps and uses about 40 of them every month, it can be really difficult for people to keep track of who has information about them and what it's used for.
"To help shed more light on these practices that are common yet not always well understood, today we're introducing a new way to view and control your off-Facebook activity."
The social network said once the activity has been cleared it won't know which websites a user has visited and it won't use any of the disconnected data to target adverts at them on Facebook, Instagram or Messenger.
It comes in the wake of a tough 15 months for Facebook during which it has weathered numerous data scandals that have left its reputation for protecting user privacy in tatters.
eMarketer Social Media Analyst Jasmine Enberg commented: "The 'Off-Facebook Activity' tool is the latest move from Facebook to become more transparent and give more control to consumers over their data. It's also likely an effort to stay one step ahead of regulators, in the US and abroad, that are cracking down on Facebook's ad targeting practices."
"The impact of the 'Off-Facebook Activity' tool on Facebook's ad business depends on consumer adoption. It takes a proactive step for consumers to go into their Facebook settings and turn on the feature. As we've seen in the past, there is a disconnect between people who say they care about privacy and those who actually do something about it. If not enough people use the tool, it's unlikely that it will have a material impact on Facebook's bottom line."