Geordie Shore star broke ad rules on Snapchat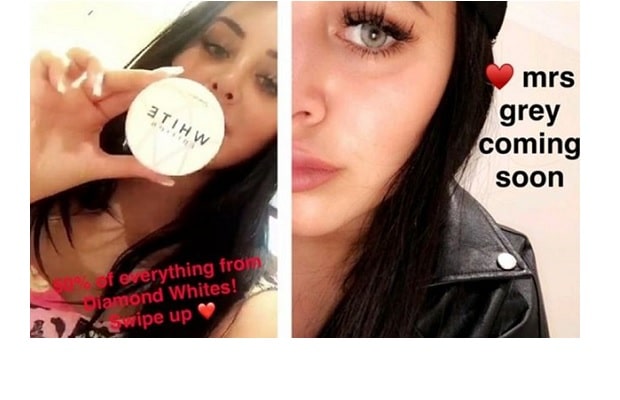 Geordie Shore star Marnie Simpson has UK advertising rules with some of her recent posts on Snapchat, failing to reveal that the posts were adverts for products.
Back in June, Simpson posted an image of herself holding a case of Diamond White tooth polish with a link to the company's site as she told fans they could receive 50% off.
She then posed a snap of herself wearing a grey contact lens and the words, "mrs grey coming soon".
The 25-year-old has been a "brand ambassador" for tooth polish-maker Diamond Whites for nearly two years.
And earlier this year her management agency, Unleashed PR, began selling a range of coloured cosmetic contact lenses labelled "iSpyEyes by Marnie Simpson".
In both cases an unidentified individual contacted the ASA to complain the images had not been identified as ads.
The Advertising Standards Authority (ASA) judged her posts to be a breach of the rules against "hidden" advertising on social media. It is the first case of its kind to have involved Snapchat.
Speaking to the BBC, Guy Parker, CEO at the ASA, said: "These might be our first Snapchat rulings, but the principle behind them is as old as the hills – ads, wherever they appear, must be obviously identifiable as ads. It's just not fair to expect people to play the detective, to work out the status of a tweet, post or story."
Diamond Whites tried to defend the promotion featuring its product on the grounds that Ms Simpson's followers would already be aware of her commercial relationship with the firm. But the watchdog did not accept that this would be known by everyone who saw the image.
Unleashed PR suggested that in its case the wording featured was so vague that consumers would not know what product was being advertised or where to buy it. But the ASA said its code still required marketing promotions to be flagged as such.
While the ASA usually forces the posts to be taken down and deleted from all social media platforms, Marnie has not been ordered to take any action due to the fact Snapchat stories self-delete after 24 hours.
However, the star and the companies involved have agreed to place the hashtag "#ad" in any future posts that are adverts.
The ASA does not have the power to impose fines itself, but can refer repeat offenders – whether they are brands or the celebrities endorsing them – to Trading Standards to take further action.
However, it hopes that the negative publicity that arises from its interventions acts as deterrent enough.
This is an issue that is coming to light more and more in the age of social media stars and celebrity influencers.
Last year, Captiv8 estimated that personalities with more than seven million followers could charge on average:
$300,000 (£227,000) for a YouTube video
$187,500 for a Facebook post
$150,000 for an Instagram photo
$150,000 for a Snapchat story
$60,000 for a Twitter post