Have #MeToo and #TimesUp peaked? Social users put film at the centre
Despite the rise of hashtag driven movements such as #MeToo and #TimesUp, social buzz around the 2018 Oscars largely focused on the films rather than the controversy, according to new data.
Social data from 4C Insights highlights while the #TimesUp hashtag received 35,984 engagements during the event, that is 200,000 engagements behind its more monumental entrance during the Golden Globes. And compare that to Get Out . Shape of Water and Dunkirk receiving over 2.3 million engagements each throughout the evening.
Data collected by 4C Insights, analysing social media engagements throughout this year's Oscars, explores the extent to which one of the world's most famous awards ceremonies has become locked into an introspective movement towards diversity.
Both #MeToo and #TimesUp have been talk of the industry this year, with the majority of celebrities getting behind the campaigns and scandals revealed. During the ceremony, the social tags received 70,282 and 35,984 Twitter engagements respectively.
Twitter also joined the conversation with its first-ever Oscars ad highlighting female empowerment and equality. The corresponding hashtag, #HereWeAre, saw nearly 24,000 engagements between the start and finish of the 90th Academy Awards.
Seacrest bears the storm
Jimmy Kimmel returned for the second year in a row to host the Oscars and garnered over 1.5 million social media engagements of his own throughout the broadcast – over 180,000 of which happened during his targeted opening monologue, taking aim at Harvey Weinstein. During the speech monologue a rise in his social sentiment from 44% prior to the show, to 65%.
While hosting E!'s Red Carpet coverage prior to the show, Ryan Seacrest, who is currently embroiled in misconduct allegations, saw over 932,000 engagements in just two hours, with overwhelmingly negative corresponding social media sentiment – only 37% was positive chatter.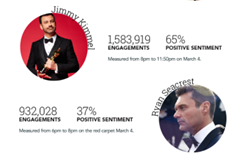 Looking for a new story?
Interestingly for the same period at the Golden Globes, #TimesUp received 246,890 engagements, over 200,000 more than at the Oscars, implying the campaign had a bigger impact and engaged with more people during the Golden Globes, when the campaigns were first launched. At the BAFTAs, #MeToo and #TimesUp were launched in the UK and received 40,664 and 16,141 engagements respectfully.
By comparison, Pearl Jam's Eddie Vedder, who performed the late Tom Petty's "Room on Top" during the In Memoriam segment, saw 1.7 million engagements throughout the night, with over 972,000 occurring during his performance.
Film diversity triumphs among audiences
Assessing the successes of the films themselves, it's notable that 'Get Out', a horror film that raises themes of racial segregation, and 'The Shape of Water', centring on an impossible love story, generated the most social engagements as the various winners were announced.
Equally, World War Two films have also enjoyed a return to the spotlight, with Dunkirk and Darkest Hour generating over half a million engagements combined.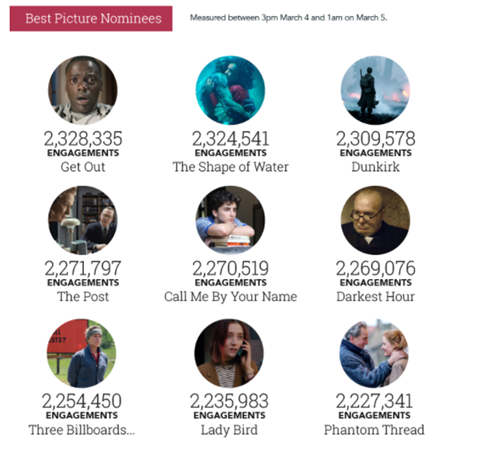 www.4Cinsights.com