Instagram adds polling stickers to Stories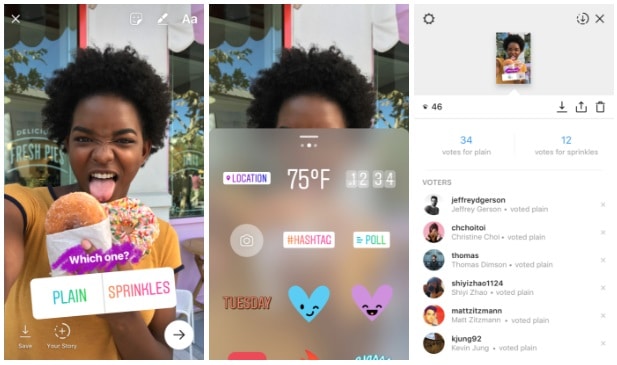 Instagram is making its Stories more interactive with a new polling feature that users can add with a "poll" sticker.
Users can now go to their Instagram and post a story along with a voting sticker that works as a button and allows people to answer a two-option question. You can then see what people voted and which option is winning.
Along with the new polling stickers, Instagram is also adding an eyedropper tool that allows users to take colors from their pictures to use on text and brushes, and an alignment tool (which is limited to iOS for now).
Jason Mander, Chief Research Officer at GlobalWebIndex said the new tool is a way for users to get an idea of what their followers are thinking.
"Directly engaging audiences to offer them the chance to show their opinions in polls is another way to understand how audiences may respond to a new product or campaign," Mander said.
"For a long time it has been assumed that as we conduct more and more of our lives online, brands automatically get a better view of our needs and interests purely from behavioural data. However, this is fundamentally not true.
"Pairing the quantitative data most brands now depend on with survey data garnered by asking the right questions of the right audience is the only means of building the full audience profile. Brands can use the data they can get from Instagram polls alongside behavioural data to gather deep insight that explains the broad interests and trends among target audiences.
"Of course it's important to remember that there are limitations around how representative the people who are active on a certain social channel might be compared to the audience segment as a whole so this data should be considered a snapshot.
For example, people who engage with a product such as Coca-Cola on Twitter are a far smaller demographic that those who buy the product in the real world. Having access to large scale data sets is also essential to paint a full picture of audience behaviour."