Private messaging apps beat social media and word of mouth for sharing content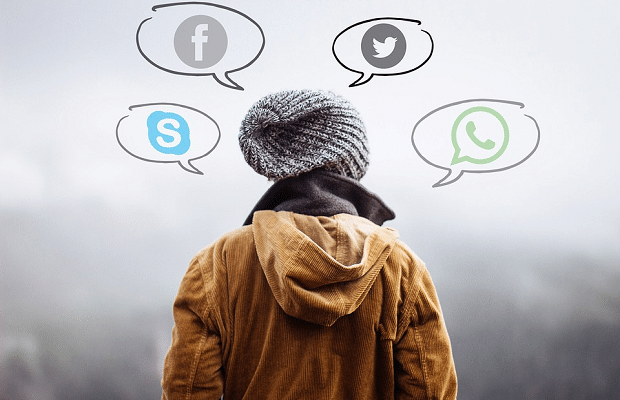 Nearly two-thirds (63%) of internet users now share content and recommendations using private messaging apps, ahead of open social media platforms and word of mouth are the second and third most popular way of sharing content, coming in at 54% and 51% respectively, according to new research.
The new research by GlobalWebIndex and We Are Social, indicates three in five internet users in the UK and US now share content and recommendations via private messaging apps, ahead of open social media platforms and word of mouth.
Interesting findings include:
The most popular private messaging platform is Facebook Messenger (82%), followed by WhatsApp and Instagram DMs
Entertainment (51%) and games (48%) are the most popular topic of shared across dark social
Internet users agree that private messaging apps allow them comfortably "be themselves" then sharing content with friends and family
The research, which looked at more than 3,000 internet users aged 16 to 64 in the UK and US, discovered that private messaging apps, often branded 'dark social' by marketers, were used by 63 per cent of people to share content. This was followed by open social media platforms (54 per cent), word of mouth (51 per cent), with other 'dark' channels, SMS and email, coming in at 48 and 37 per cent respectively.
The study looked at the use of specific private messaging platforms and found that Facebook Messenger was the most popular to share content on (82 per cent), followed by WhatsApp (56 per cent), direct message on Instagram (34 per cent) and Snapchat (32 per cent).
The research found that consumers were more likely to be comfortable "being themselves" when sharing on private channels (48 per cent), compared to sharing publicly to a news feed of followers (13 per cent); a finding that was consistent across all age groups.
Entertainment including music and film ranked top (51 per cent) when it came to categories for content being shared across 'dark' channels (private messaging, SMS, email). This was followed by games (48 per cent), clothing (47 per cent), electronics (46 per cent), food and drink items (42 per cent) and travel (41 per cent).
André van Loon, research and insight director, We Are Social, commented: "This shift in consumer behaviour underlines how much marketing now comes through social media, and specifically dark social. Brands can have a big above the line push, but when it comes to consumers actually talking about the brands they like, the things they want to do or buy, and following others' recommendations, more and more of that now happens in private apps and by sharing links. Increasingly, marketers will need to be sure to target and optimise their content so that heavy-lifting ATL awareness campaigns run at the same time as easy-to-share digital content, which consumers will then be free to use and discuss in their own time."
Chase Buckle, Trends Manager, GlobalWebIndex, added: "What's clear is that social media engagement is shifting, and this presents as much of an opportunity as a challenge to brands.
As public social media platforms increasingly fulfil the role of content consumption sources, private messaging platforms are now where meaningful conversations and recommendations are taking place between peers actively engaging with each other. Sharing content with a large friend network accrued over many years may have impressive reach, but it doesn't compare to the private messaging environment which is a lot more conducive of trust in recommendations. WhatsApp Business and Messenger's chatbots epitomize industry initiatives to monetize these 'dark social' platforms. Brands looking to integrate their services across social media must focus on giving users the opportunity to follow up on recommendations that come through private messages in a streamlined way within the single platform."