Snapchat influencers forced to label sponsored endorsements
New Federal Trade Commission (FTC) guidelines have forced many of Snapchat's biggest stars to starts labelling videos featuring paid endorsements of brands. Under the new rules, creators on the mobile-based social network are beginning to mark branded content with disclaimers that adhere to the s guidelines. Rivals Instagram and Twitter have forced influencers to flag […]
New Federal Trade Commission (FTC) guidelines have forced many of Snapchat's biggest stars to starts labelling videos featuring paid endorsements of brands.


Under the new rules, creators on the mobile-based social network are beginning to mark branded content with disclaimers that adhere to the s guidelines.
Rivals Instagram and Twitter have forced influencers to flag up paid content for years, but until now, Snapchat has been relatively unregulated.
This all changed last week, when some of Snapchat's biggest stars, including Shaun McBride, Josh Peck and the Eh Bee Family, posted copy that is marked with hashtags such as #paid, #ad and #sponsored to indicate that their posts are paid for by brands.
As an example, last week Snapchat artist Shonduras (real name Shaun McBride) posted a story from a Samsung event in New York that unveiled its new Note 7 smartphone.
Before the event, McBride posted a picture with the hashtag #collab to disclose to his fans that he was being paid to post on his Snapchat account.
Meanwhile, YouTube and Vine family the Eh Bee Family teased a branded YouTube video created for Nintendo's Mario Kart Battle game on Snapchat yesterday with a single post marked as #paid that was uploaded using the app's recently launched Memories feature.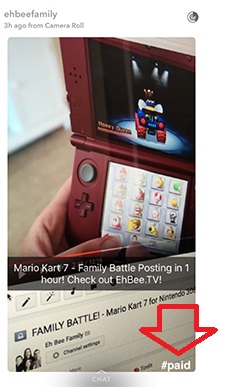 "We just want to be transparent with our fans, and we're glad that we can upload from our camera roll as it allows us to better position FTC disclaimers without ruining the overall experience," the Eh Bee Family said in an emailed statement.
Snapchat's self-destructing posts and lack of rules on paid content can be particularly tricky for advertisers.
However, the Federal Trade Commission's guidelines for paid content require that all paid social endorsements—regardless of platform—be labeled as "honest and not misleading."
In March, the FTC issued a complaint against Lord & Taylor for paying fashion influencers to create posts about one of its dresses on Instagram, without disclosing that the retailer paid them and gave them the dresses for free. Any compensation, including free products, should be disclosed, the FTC says.