Snapchat showcases VR 'Lego wear' in pop-up shop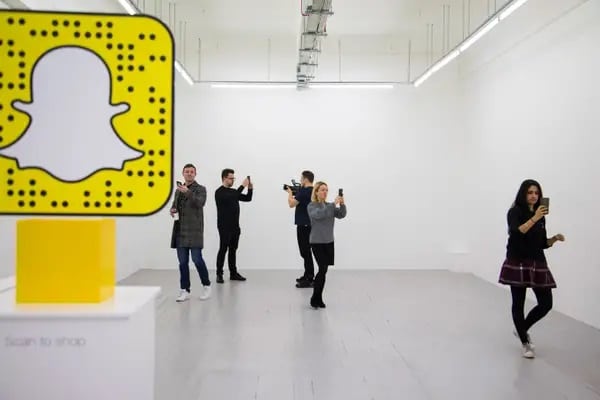 This week, a playful pop-up in Fitzrovia showcases the latest cutting-edge retail technology with Snapchat LEGO WEAR, immersing shoppers in an augmented reality fashion boutique experience.
Ahead of London Fashion Week, The Missing Piece pop-up is celebrated the limited-edition LEGO Wear clothing line for adults, and will see Snapchat offer their first Shoppable AR experience with the brand.
The virtual boutique featured an interactive DJ booth, an arcade machine and, most importantly, exclusive access to the limited-edition fashion range. Visitors who 'walk in' via their phone will be able to browse products placed on LEGO mannequins and buy online through an integrated 'Shop now' feature.
Shoppers in the know could to visit the LEGO WEAR pop-up shop in Fitzrovia, only to find that the shop has nothing inside except a Snapcode.
The campaign aims to promote KABOOKI's limited-edition streetwear collection across the UK, France and Germany, driving traffic to the LEGO Wear e-commerce site.
Birgitte Holgaard Langer, chief operating officer & chief marketing officer at KABOOKI, said: "We loved the idea of experimenting with a new and innovative digital customer experience together with the LEGO team. Approaching the adult fashion audience with this limited-edition clothing line through an AR experience is something we have never done before. We are very excited to see how this new audience will respond to the launch and the AR experience."
"We're an innovative, playful brand at heart and part of that is exploring new digital channels and technologies," says Lea Sandell, Social Media Innovation Lead at the LEGO Group. "This was an unique opportunity to collaborate with KABOOKI on their brand new limited edition product for adults and tap into both the sense of style and the nostalgia of that audience – while exploring that interesting space where the digital and physical worlds merge.