Snapchat user growth stalls after redesign backlash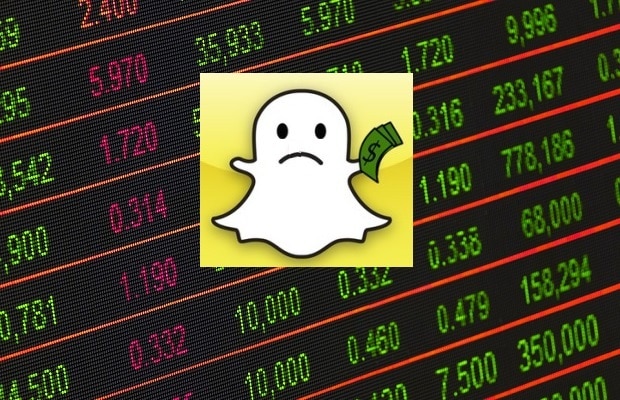 Snap added just four million users to Snapchat during the first three months of 2018 amid a backlash to a significant app redesign, while revenue growth failed to meet expectations.
The service had 191 million daily active users during the quarter, up from 187 million at the end of last year, or just a 2% increase. User growth rose 5% in the last quarter of 2017 and 3% in the third quarter.
By comparison, Facebook said Tuesday that WhatsApp's Snapchat clone now has 450 million daily users.
The daily active users figure also came in below Wall Street's expectations of 194 million.
Snap stock fell more than 15% in after hours trading following the earnings report.
Revenue jumped 54% to $230.7 million, but came in below analysts' expectations.
Snap said the redesign impacted its revenue by "disrupting user behavior" and creating some apprehension among its advertisers.
"We are already starting to see early signs of stabilization among our iOS users as people get used to the changes, but still have a lot of work to do to optimize the new design, especially for our Android users," CEO Evan Spiegel said on a call with investors. "We are now focused on optimizing the redesign based on our ongoing experimentation and learning."
He also said the company has seen increased new user retention among older people.
Earlier this year, Snapchat redesigned its app to separate content posted by friends from content posted by publishers and celebrities.
The update, which rolled out to most users during the first quarter, was intended to make the interface less confusing.
But it ended up setting off an outcry among users. A Change.org petition asking the company to remove the redesign now has more than 1.2 million signatures.
Snapchat was also panned by some of its most prominent users after the redesign. Kylie Jenner, a reality TV star, threatened to quit the app in February, causing the stock to fall. Chrissy Teigen, a model and TV personality, said she stopped using the service in March.
Industry comment
Yuval Ben-Itzhak, CEO of social media marketing suite Socialbakers, said: "Despite trying to diversify its revenue stream with its second generation of Spectacles, reducing some of its workforce and optimising its infrastructure costs, Snap doesn't seem to be able to satisfy investors. Shares fell following the earnings result, which revealed that the company missed the mark on both user figures and revenue.
"The redesign at the end of last year, which resulted in celebrity outcry and a petition on Change.org asking Snapchat to roll things back to the old format, seems to have alienated users and set Snap back a step as they try to attract more marketing budgets.
"Snapchat is also still a long way behind its rivals Facebook and Instagram in terms of advertising dollars and audience size. Instagram Stories has 300 million daily active users and as Facebook's Stories products grow in popularity, marketers will have fewer reasons to direct their ad spend towards Snapchat. Advertising revenue for Snapchat grew 62% year-on-year, which demonstrates that recent changes to the platform in favour of marketers have somewhat paid off. However, Snap is still not yet attractive enough to marketers at the scale it must be to support its revenue goals."
Aaron Goldman, CMO, 4C Insights, said: "Today's earnings announcement isn't the only indicator of Snap's performance. In fact, 4C hasn't seen a slowdown when it comes to advertising on the platform, and actually saw a 234% YoY increase in ad spend through 4C in the first quarter of 2018. Snap is testing a redesign to its redesign, and in the last quarter introduced several valuable new features like branded Discover channels and an interactive Snap Map. As the company evolves, we anticipate it will continue to carve out its position as a critical platform for reaching audiences in unique, relevant, and effective ways."
Joe Rohrlich, General Manager of EMEA at Bazaarvoice, said: "Unlike it's more established peers, Snapchat is maturing as an ad platform incredibly fast. These latest results bode well but some of the most exciting opportunities for advertisers are only just landing. Story Ads have just been rolled out programmatically for the first time this week, and we've seen recently how Lenses is starting to offer the type of interactive experience that has been prophesised by technologists for years. By enabling fully functioning augmented reality, direct response ads, the onus is back on the user. User generated content is some of the most effective in driving conversions and as an entirely video-based platform, Snapchat is making the most of its unique position."