Ted Baker debuts 360º shoppable film
Fashion brand Ted Baker is launching a new comedy sitcom, featuring a shoppable virtual reality film and an Instagram story. The sitcom tells the story of the Baker family who appear to be the picture of suburban utopia, yet beneath the airs and graces the family aren't quite what they seem. Ted Baker's social channels […]
Fashion brand Ted Baker is launching a new comedy sitcom, featuring a shoppable virtual reality film and an Instagram story.


The sitcom tells the story of the Baker family who appear to be the picture of suburban utopia, yet beneath the airs and graces the family aren't quite what they seem.
Ted Baker's social channels have also been "taken over" by the Bakers story, encouraging followers to finish off gossip stories started by nosy neighbours through getting involved in the fictional world of the Bakers and completing daily challenges.
In addition, Ted Baker is rolling out a 360° shoppable film hosted on TedBaker.com, UK partner ASOS.com and Nordstrom.com in the US.
Customers will be able to poke around the Baker family home, reveal hidden content and purchase the latest collection as worn by the characters.
Additonally, a 360° non-shoppable film will be available to view through Google Cardboard.
Ted Baker worked with digital agency Poke to create the virtual neighbourhood through its Instagram channel, while photographersCrown & Owls created the digital look book.
Happy Finish and Wirewax created the 360 shoppable film experience and Nexus Studios' Interactive Arts Division created an interactive window at select Ted Baker locations.
Ted Baker will also bring the Keeping up with the Bakers campaign alive through in-store activation and use of Google's virtual reality (VR) headsets, Google Cardboard.
A 360° film will be distributed in-store via 20,000 Google Cardboard headsets and the fashion brand has also created an interactive window display at select locations. The latter works by allowing passers-by to place their hands on a glass window, which then triggers a camera that places the user beside the Baker characters and results in a sharable GIF.
Ted Baker will use Instagram Stories as a "gossip channel", with daily posts serving as episodic content to reveal more about different Baker family members.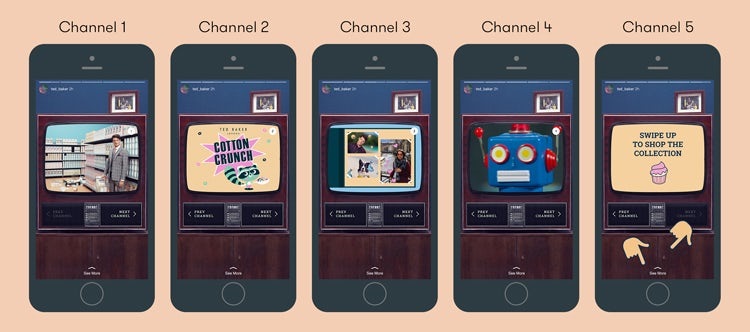 People are able to click through a selection of five different "TV channels" in Stories, with each showing content appropriate for the Baker's world, as well as revealing a competition winner.