The Dude, dragons and Serena: The 12 best ads of Super Bowl 2019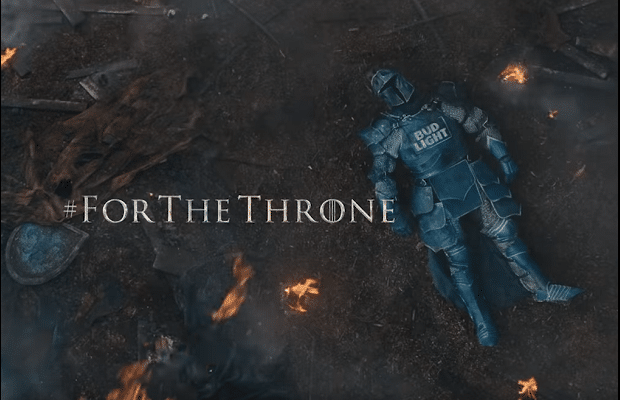 This year's Super Bowl ads avoided the controversy of previous finals in favour of easy laughs and surprise tie-ins, with Budweiser and Bumble generating the most social media buzz.
The game (and half-time show) was largely viewed as a let-down rather than a touch-down, with the New England Patriots comfortably beating the L.A. Rams on the field in Atlanta.
owever, the ads during the breaks managed to create more buzz on social media.
Securing a half-time TV ad slot during the Super Bowl is one of the most coveted opportunities in advertising, with a captive audience of an estimated 120 million people tuning in.
espite a 30-second slot costing a staggering £4m, many brands look to spend an additional quarter of their investment on marketing their ad to ensure that it's seen as widely as possible, amplified by social media.
Social media marketing company Socialbakers unveiled the big marketing winners, based on each ad's interactions on Twitter, Facebook and YouTube – encompassing likes, retweets, comments, and shares.
Budweiser and Bumble's purpose-driven efforts got major buzz, while Pepsi and Stella Artois' celeb-packed ads rounded out the social media winners.
Budweiser's ad was the surprise winner on Facebook, racking up almost 225,000 interactions for its ad focused on renewable energy
This demonstrates that viewers are responding well to purpose-driven ads, as it also tops the table on YouTube with over 28,000 interactions
On Twitter, Pepsi's ad got the most interactions, with 73,000, almost three times the amount of the second best-performing ad on Twitter
Their ad marks the brand's return to its star-studded, tongue-in-cheek roots after its disastrous foray into purpose-driven advertising back in 2017
Other winning ads on Facebook that achieved over 100,000 interactions include Stella Artois' hark back to SATC, and Bumble's first ever Super Bowl ad featuring ambassador Serena Williams as the voice of female empowerment

View our selection of the best ads below:
Budweiser goes green

Using Bob Dylan's "Blowin' in the Wind" to tout beer brewed with wind power, the callback to previous Budweiser big-game spots contained a mix of advocacy and product pushing that also happened to be visually arresting.
Bumble and Serena Williams promote female-first dating

The Austin-based dating app, Bumble, created a buzz this year with its first-ever Super Bowl ad. Focusing on female empowerment, it was part of a new partnership with tennis mogul Serena Williams who calls on women "to make the first move" in going after what they want. The commercial starts with Williams saying, "The world tells you to wait, that waiting is polite, but if I waited to be invited in, I never would have stood out." Since the dating app's launch, more than 750 million first moves have been made by women, but Williamson wants it to go beyond that.
Burger King's pop art (37 years in the making)

This commercial stood out for one startling fact: The footage used was 37 years old. Mostly silent, it features Pop artist Andy Warhol unwrapping a Whopper, struggle to pour out some Heinz ketchup, and eat a bite. The footage was filmed by director Jorgen Leth for his film "66 Scenes in America," and the Andy Warhol Foundation gave Burger King permission to use it. Like the rest of Warhol's art, it's a commentary on commercialism, and he'd likely have been delighted: "Good business is the best art," he once said.
Google gets emotional with Translate ad

With this commercial, Google highlights the remarkably heartwarming way in which its Translate feature unites people of different cultures. The most-translated phrases are "how are you," "thank you" and "I love you," the narrator says over gentle instrumental music and clips of people using the feature to connect with strangers all over the world.
Stella Artois unites Carrie and The Dude

Super Bowl commercials played it safe this year: light on the political commentary, heavy on the celebrity spokespeople. The ad was steeped in '90s nostalgia, with callbacks to "The Big Lebowski" and "Sex and the City", surprising everyone when they order a beer instead of their signature White Russian and cosmopolitan drinks. Bridges drummed up excitement with an elusive tweet, the latest example of successful nostalgia marketing.
Pepsi pokes fun at itself on Coca-Cola's home turf

Pepsi's ad poked a little fun at itself and Atlanta-based market leader Coca-Cola with a star-studded ad featuring big celebrities: Steve Carell, Lil Jon and Cardi B. The commercial begins with a diner waiter asking a patron if "Pepsi is okay," referring to the widely held opinion that Coke is much better. "Are puppies okay? Is a shooting star okay? Is the laughter of a small child okay?" Carell yells in Pepsi's defense. Lil Jon chimes in with an "OKAY!" from behind the counter, while Cardi B strides in with a sparkly jacket and a spunky "Okurrr." Carell concludes: "I gotta come up with my own catchphrase."
Pringles and the sad smart assistant

Pringles is continuing its marketing drive to encourage people to mix up its stackable stacks to create new flavours. The commercial shows two men trying to combine cheddar, jalapeño and sour cream and onion chips to make a "spicy nacho stack." "How many flavor stack combinations are there?" one asks, and an unspecified Alexa-like voice assistant responds: "318,000." And continues: "Sadly, I'll never know the joy of tasting any for I have no hands to stack with, no mouth to taste with, no soul to feel with."
Bud Light turns ad into Game of Thrones promo

Many viewers were confused to see the beer ad morph into a "Game of Thrones" tie-in, but the ad generated the most engagement on social media. The beer company's "Dilly Dilly" commercials, which are set among knights in medieval Europe, took an unexpected turn as the "Game of Thrones" theme began to play, followed by a dragon appearance. Bud Light pulled off a successful and surprising partnership with HBO.
M&Ms gets buzz with 'Bad passengers' skit

M&M's used its 30-second Super Bowl commercial to promote the arrival of a chocolate bar stuffed with mini-candies, marking the first time that the company has used the big game to announce a new snack. The commercial begins with a stressed-out Christina Applegate — of Anchorman and Married With Children fame — driving a sedan as bickering voices emanate from the backseat.
Ronald Reagan cameos in Hulu's Handmaid's Tale trailer

The ad for the dystopian drama "The Handmaid's Tale" Hulu started out as a spoof of Ronald Reagan's 1984 campaign ad "Morning in America."
Disney builds up Marvel's finale year

Disney — The combination of "Captain Marvel" and "Toy Story 4" right after the game and a pre-kickoff spot for "Avengers: Endgame" punctuated a quiet Super Bowl for the movie studios, The new Avengers: Endgame trailer for arguably the most aniticpated film of 2019 shows the remaining Avengers preparing for a much larger fight.
Olay teams with Buffy for horror movie spoof
The company's first Super Bowl a, a horror-movie spoof featuring former Vampire Slayer Sarah Michelle Gellar turned into a promo for her great looking skin.