The year in review: 16 biggest digital trends of 2016
2016 was another big year for digital marketing, with the dawn of the chatbots, ad blocking wars and the Pokemon Go craze. This was the year that video content went live, chat apps grew up and YouTube ads earned better ROI than TV. In this special report, we've identified 16 of the biggest trends of […]
2016 was another big year for digital marketing, with the dawn of the chatbots, ad blocking wars and the Pokemon Go craze. This was the year that video content went live, chat apps grew up and YouTube ads earned better ROI than TV. In this special report, we've identified 16 of the biggest trends of the year, each accompanied with an action plan for 2017.

The era of automation: AI and programmatic drive "fourth industrial revolution"
Perhaps the biggest change in 2016 was the leaps made in artificial intelligence. From Google's DeepMind toppling the human Go champion to branded chatbots, AI opened up exciting new opportunities to marketers.


Forget 'mobile first', Google CEO Sundar Pichai outlined a vision of the future which is AI first – where physical computes are replaced by a smart assistant that follows you everywhere.
In 2016 we started to see how this could become a reality. Facebook (and Twitter) offered marketers their own branded chatbots in a move that could revolutionise customer service.
Google's new 'Pixel' mobile phone put AI at its centre, as its 'Assistant' software got better at anticipating user's questions before they ask it.
At the business end, programmatic was predicted to become the most popular method of ad trading- but how much control to markets wish to cede?
Actions for 2017: Chatbots on Twitter and Facebook could be an easy win, but make sure your bot should is well-versed in your brand and customer needs before meeting your consumers. In terms of programmatic and advertiser control, more rigorous checking is needed by ad exchanges and supply side providers in programmatic trading.
Social stars: The rise of influencer marketing
This year saw influencer marketing become increasingly important, as social media stars began to eclipse TV celebrities in terms of brand reach- but at what price?


With YouTube personalities charging an average of $187,500 for each sponsored video, (Instagram and Snapchat endorsements cost slightly less), it's clear the practice has become big business. At the other end of the spectrum, Twitter now lets brands reward customers who retweet their content. We're all 'influencers now'.
The rise of vloggers has also lead to regulators stepping in, as the lines between sponsored content and editorial opinion become blurred.
Facebook also expanded its 'Like' button with 6 new 'Reactions' to encourage faster ways for people to respond to their newsfeed- something that boosted engagement. Later in the year, however, the social network admitted it had been over-estimating' its video views to advertisers, leading to a somewhat mixed year for Zuckerberg.
Actions for 2017: Think about the best matched influencers and platform for you brand, how you can reciprocate offers with them, and clearly define your goals.
Movers and Shakers: Microsoft and LinkedIn seek corporate match
It was another year of consolidation and separation in the fast moving digital world. Microsoft bought LinkedIn for a massive $22bn while Verizon snapped up the embattled Yahoo for a less impressive $5bn.


Walmart bought Amazon rival Jet and Unilever bought Dollar Shave Club as the big retailers and brands continued to move online. Snapchat quietly revealed plans for an IPO that valued the chat app at a whopping $25bn.
In China, WeChat owner Tencent overtook Alibaba as the biggest company in the country.
It wasn't such a good year for Blackberry, which stopped making phones, while Twitter continued to seek a buyer after Google and Disney backed away for deals, causing it to axe popular video platform Vine after just 4 years.
Actions for 2017: Expect something big from Twitter as major brands continue to buy up digital platforms.
Ad blockers Vs digital marketing: This time it's war
Ad blocking software is great for consumers weary of intrusive ads, but with advertisers able to pay to be on an 'acceptable ads list' to bypass filters, are we witnessing the creation of a digital cartel?


The battle between ad blockers and the digital marketing industry intensified in 2016. The IAB 'uninvited' Ad Block Plus form a key event earlier in the year. Facebook also announced it was bypassing ad blocking filters on its desktop site, leading to an escalating war with the world's biggest ad blocking firm, with each side updating their software to block the other.
This year, the EU also scuppered plans to block ads at a mobile network level, under new net neutrality laws. The ruling was bad news for UK operator Three, which r ran an ad blocking trial with around 20,000 of its customers. To cap off the year, Adblock Plus announced it is now selling "acceptable" ads themselves, aimed at replacing intrusive ads with "less annoying ones", with some viewing the move as a tad hypocritical.
Actions for 2017: People who ad block are amongst the most digitally savvy (and the biggest digital spenders)- ignore them at your peril. Brands need to think like publishers and create content that people will pro-actively seek out and ask for change behaviour in order to maintain an equitable exchange.
Catch 'Em All: Augmented reality gets a Pokemon power-up
From Blippar to QR codes, augmented reality has long been a novelty technology for marketers, but this year it got a boost from a millennial–friendly gaming franchise.


Pokemon Go! was the big gaming breakthrough of the year, with many brands catching the craze. However, Niantic has struggled to maintain the record-breaking user numbers of the summer- despite opening up to marketers (such as a Starbucks promo).
The success of the app certainly opened up brands to the idea of augmented reality as the real and digital world's collide.

Actions for 2017: AR can be a fun addition to your brand, but interest often wanes. Integration with existing and successful AR apps might be better than building your own expensive AR wonderlands.
Mobile marketing: No longer just the second screen
We are witnessing the decline of the TV-centric living room, as consumers' attention is now equally spread across mobiles, tablets, laptops and the box.


The traditional assumption that people cram non-TV related behaviour into the ad breaks is no longer valid. The term second-screening is no longer accurate – it's "switch-screening"- meaning timing social media ads around TV shows is a great way to encourage 'sofa spending'.
In 2016, the amount UK companies spent on mobile display ads overtook that of PC and tablet display for the first time, and three-quarters of global internet traffic will come from mobile devices in 2017, with Spain, Ireland and Singapore leading the way.
Actions for 2017: With three-quarters of traffic coming from smartphones next year, marketers need to think mobile first and how device usage syncs up with other media (especially TV). On mobile, smaller data can build a bigger picture of the consumer, offering insights that take your understanding of them from a micro to macro level.
Chat apps grow up: Instagram borrows from Snapchat playbook
Ever since Facebook bought WhatsApp for a whopping $22bn back in 2014, chat apps have been big business, eclipsing text, email and older social media such as Twitter as the communication platform of choice, particularly among millennials.


2016 saw Snapchat open up commercially, offering behavioural targeting an API tools for the first time, while quietly filing for an IPO as older users signed up.
WhatsApp controversially linked with its parent Facebook to share phone numbers and other details with advertisers. Perhaps the biggest strides were made by Instagram, who shamelessly imitated Snapchat to launch its own 'Stories' feature, massively boosting engagement.
Advertisers also played upon the format, with more brands using vertical video formats especially shot for people holding their phones upright (rather than the traditional letterbox format.
Actions for 2017: Snapchat and Instagram are big players now, but both have very particular audiences and layout styles. Identify how the channels work and look at rival activity to assess what works and what doesn't in this highly personal space.
VR comes to the living room: Facebook gives glimpse into new social world
No longer a cheap gimmick, virtual reality made huge strides at both the low and high ends of the market. With many high-end games costing a big chunk of money, the VR experience lends itself well to brands who can provide an immersive experience for free. The platform is a marketers dream- you have the customer's complete attention- literally engulfing their senses.


Google expanded its ultra-cheap 'Cardboard' with a $79 Daydream device, while PlayStation VR, priced at $350, took a high end experience into the living room as a more accessible alternative to Oculus Rift.
Beyond gaming, Mark Zuckerberg demonstrated Oculus Connect, showing how social media could work in a VR environment. Over in China, Alibaba showed off a VR shopping experience where customers pay by simply nodding their head.
Actions for 2017: With VR video set to rival video gaming by 2019, it's worth thinking iof your brand can fit into growing number of high or low end platforms. Sponsorship of an existing platform could be a low risk way to test the (virtual) waters.
Up Periscope: The rise of live video
From Periscope puddles to 'Chewbacca mom's' on Facebook, live video was a big trend of 2016. New networks featured live video in breaking stories as social media users turned into citizen journalists.


After the success of Meerkat and Periscope, Facebook introduced its own live video back in March. The format has proven successful enough for the social network to introduce mid stream ads.
Snapchat video has a hugely successful year too, catching Facebook to total video views. Meanwhile YouTube trumpeted figures that showed its ads were getting better ROI than TV.

Actions for 2017: Event based marketing lends itself well to live video, but the approach needs to be different. Acknowledge your audience, and rrespond to live comments (or Facebook reactions). . When you go live, be sure to mention your friends and fans who are viewing, and end with a call to action.
Omni-channel shopping: High street and Ecommerce collide
As the digital and offline world's converge, the way we shop is changing rapidly. Consumers regularly check their phones to compare prices, use vouchers and seek alternatives while on the high street- and brands need to make sure they follow this trend with a seamless multi-channel experience.


Amazon's Dash buttons turned kitchens into shops with smart dishwashers that do the shopping for you, while Facebook updated its analytics to join up online and offline shopping habits.
Instagram took the natural next step as a fashion hotspot by making its photos 'shoppable' with the app. Over in China, Alibaba enjoyed another record Singles Day, becoming a bigger company than Amazon and eBay combined.
Amazon ended the year by taking omni-channel to the next level, with a store that banished check out queues all together. Just tap your app, pick your products off the shelf… and walk out.

Actions for 2017: No more retail silos. Marketers need to provide a joined up experience between their online and offline experience that delight the onmi-channel shopper.
Internet of Things gets smarter: Amazon Echo, driverless cars and robots doing the dishes
Every year, the Internet of Things is hyped as the next big thing, only to disappoint. From Google Glass to smart fridges- mainstream take-up never quite materialises. But the potential remains huge.


Snapchat made its first move into hardware with Spectacles, while Apple finally committing to smart car software.
Amazon's Echo took Siri technology into the living room, while Google's latest line of robots showed them climbing stairs and filling a dishwasher, hinting at future homes beyond Roombas and smart thermostats.
This year ended with Google rebranding its driverless car project as Waymo, as its vehicle get ready for a commercial launch, despite a few driving near-misses (and crashes).

Actions for 2017: IoT has huge potential, but the pace of change is slow. When it comes to marketing, start small and expand. Achieving success around the Internet of Things is all about maximizing the value of data and how best to apply it to your brand goals.
Changing work patterns: Rise of the gig economy
Despite concerns over staff pay and conditions, it seems that the 'gig economy' is here to stay. The connected world makes it easier for people to buy and sell instant services in real time, whether its private plane rides or a home-cooked meal.


From Uber and Deliveroo to AirBnB and ZipJet, the sharing economy (or gig economy) has grown out of today's app-oriented society. Amazon has started offering 'Uber-style' jobs for its deliver drivers, while Google incorporated a ride-hailing feature into its maps to cater for huge demand.
Sites such as Airbnb and Homeaway have driven a huge 112% rise in searches for UK holiday rentals, catching hotel searches in the process. Brands also got in on the act, with Persil partnering with 'Uber for laundry' service Zipjet.
Actions for 2017: Persil's a partnership with a laundry service shows a way for brands to capitalise on the gig economy. Live-response and crowd-sourcing are also ways for brands to leverage their community- using real-time solutions to solve real-time problems.
SEO split: Search adapts to mobile and AI-driven world
From voice commands, and mobile to AI and social media, search is no longer just about 10 blue links, and this year we saw the sector evolve in big ways.


One of the most significant changes saw Google split its desktop and mobile results, with SERPS on smartphones now showing more up-to-date information to reflect a different audience. This year also saw the search giant ditch its iconic right hand side ads, as it moved to a single column of results to favour mobiles.
A reshuffle at the top of its search division saw Google put its AI chief in charge, with machine learning now driving more relevant results than ever for the search engine. Studies also show that results pages are showing fewer organic results but more app links.
Actions for 2017: Despite the shift to mobile and social, research still suggest good old search engines are still the top platfrom for brand discovery and research, so no need to dump your AdWords account just yet.
Heart Trumps head: Politics, trust and the new digital reality
With Brexit and Trump, 2016 was a year of political upheaval, and digital certainly played its part as the rules of the game changed dramatically.


The year started with Facebook accused of favouring left-leaning politics, as it was revealed users were spending more time sharing links than posting personal updates (referred to as a context collapse). In stark contrast, the year ended with Facebook accused of aiding Trump's presidential victory by circulating 'Fake News' and using algorithms that reinforced (rather than challenged) political viewpoints.
Over in the UK, Brexit got Brits turning to Google for answers amid a torrid campaign from both sides of the debate, that left many Brits googling "what is the EU" after the referendum, even after two months of intense campaigning. From "Brexit the Movie" to Trump's tweets, social media mobilised groups of voters in a way that traditional media could not.
It was also the year that politicians successfully employed a common marketing technique- playing to people's emotions rather than "cold hard facts".
Actions for 2017: This was the year that political hearts ruled over political heads- and marketers need to take note. With social media blurring the lines between fact and fiction, playing to emotions is still a powerful tool when employed in the right way.
And it was a bad year for…
And finally, here's some honourable mentions for trends and companies that didn't quite have the bumper year that was promised…
Smartwatches


Where were the wearables? Over a year on from the Apple Watch launch, smartwatches has failed to be the next big thing. Go Pros and FitBits sold well to the fitness crowd, mainstream take-up failed to materialise.
Samsung
The biggest smartphone maker in the world had a terrible year… due to the exploding Note 7.


Samsung halted production and sales of its Note 7 phone worldwide, telling owners to switch them off, amid fears that the devices can catch fire. The South Korean firm formally recalled 2.5 million devices after dozens exploded or caught fire, but there were multiple reports that the "safe" replacements provided have also overheated, emitted smoke or caught fire.Images of charred Note 7 phones have been posted by users on social media.
Big data
Big data has been hyped for many years, and while it's undoubtedly an essential part of marketing taken us forward in an AI-driven world, some data suggests that marketers are failing to turn big data into big profits.


A study from Gartner, indicates that tech executives have shifted focus from big data itself to the problems that big data might solve.
Want more reviews of the year? See our round-up of the best virals, worst fails and weirdest news below:
The Best 25 Virals of 2016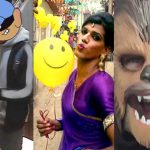 The 12 Worst Marketing Fails of 2016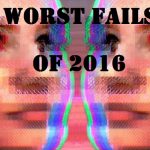 Odd news: The weirdest digital stories of 2016