Top 20 virals of 2018: Tide pods, rang-tans and naked Swedes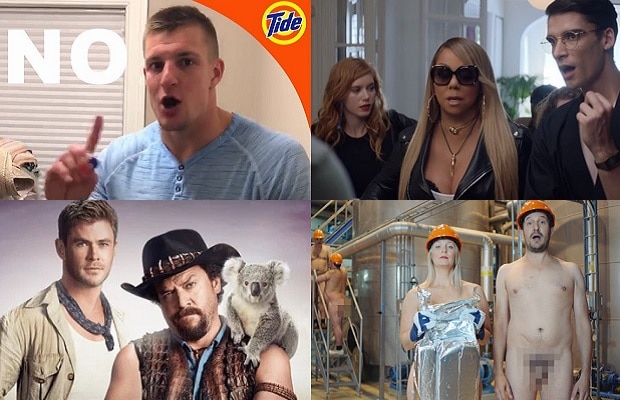 From fake movies to dog selfies, 2018 marked another big year for video viral marketing case studies. Personalised ads, pranks and long-form storytelling were key themes this year. To round off the year, our team has assembled 20 standout virals from around the world for your viewing pleasure...
Why create your own ad when you can just spoof all the other ones? "It's a Tide ad" by Saatchi & Saatchi ran during Super Bowl 2018 and starred Stranger Things actor Jim Hopper as an omniscient narrator hijacking other ads shown at the intervals. During the game, millions of viewers go online to comment on and scrutinise every ad shown. To own the social conversation, the brand found something all ads have in common, and gave people a filter through which they could judge every ad they saw: the presence of clean clothes. People talked and laughed about laundry, questioning many of the commercials as to whether they were #TideAds. The hashtag was used 45,000 times, with people generating their own #TideAd content memes and even won Twitter's #BrandBowl.


This technological feat from Adidas saw the sportswear brand utilise the 30,000 runners of the Boston Marathon to create personalised videos of its participants to promote its latest running apparel. Adidas was looking for a way to create a more meaningful connection with participants and viewers – something that goes beyond the standard freebies giveaway. This personal, emotive and immersive digital marketing campaign proved as innovative as it did head-turning, resulting in a collective 100,000 video views in the first two days following the race. The campaigns emotional resonance lasted long after the race and signals how sports sponsorships can achieve a deeper sense of purpose in the digital era.


Following previous Hostelworld appearances from Chris Eubank, Charlie Sheen and 50 Cent, Mariah Carey appeared in this engaging long-form video that achieved 13 million views. The legendary diva is at first indignant when she shows up with her entourage in Barcelona and finds out she has accidentally been booked into a hostel instead of a hotel. But her anger is turned on its head as she discovers the hostel Casa Gracia's modern features such as a private room, free wi-fi and cocktail bar.

A great example of long-form, engaging content, Tinder recruited the talents of Jonathan Van Ness and Antoni Porowski from Netflix's 'Queer Eye' to help one Tinder user optimise their profile and find their next date. Two of the 'Fab Five' took control of Mayra's Tinder account — first, helping her sort out the ideal profile picture and then getting into the most important part: the swiping. Should you show your red wine glass as more than half full? Are photos in Vegas allowed? What's the different between kayak and canoeing? Answers are revealed below…

"Call that a hoax? THIS is a hoax!" It was casting choice that baffled the world: US comedy regular Danny McBride playing the son of Mick "Crocodile" Dundee in a reboot of the iconic 80's film. However, it was all an elaborate fake to promote Australian Tourism. To generate hype, a teaser trailer pretended the movie was real, before making the big reveal that it was just a tourism ad in a Super Bowl spot in February. Massive stars including Russell Crowe, Hugh Jackman, Margot Robbie, Chris Hemsworth and Isla Fisher were all in on the joke. Streuth!

Amazon caught the spotlight at this year's Super Bowl with a star-studded ad and social media campaign where its Echo smart speak lost its familiar voice, only to be replaced by celebrities. After a teaser ad with an appearance by founder and CEO Jeff Bezos, the story continued by showing Alexa celebrity replacements for the e-commerce giant's Super Bowl ad. The ad has attracted nearly 50 million YouTube views at time of publication.

The Cannes Lions award for best of influencer marketing went to a UK-focused Nike campaign that inspired confidence in the capital's youth. Nike wanted to reaffirm its place with young Londoners. Kids in London are faced with impossibly high pressures and expectations to succeed – to be seen as popular, stylish, "cool" (whatever that is). At a time when brands were feeding into their insecurities, promoting style, swag and big celebrities as a way to achieve it, Nike wanted to inspire the inner athlete within every youth through the entertaining, empowering, confidence-building ability of sport.

UK supermarket chain Iceland saw its Christmas advert blocked from TV screens for being too political, but the Greenpeace-made cartoon found new life as a viral success online. The animated short film highlights destruction of the rainforest caused by palm oil production, and its devastating impact on the critically endangered orangutan. Clearcast, the body which approves or rejects adverts for broadcast on television and video on demand, said it was "concerned" that the commercial "doesn't comply" with legislation on political advertising. The ban gave the ad extra publicity via the news, social networks and other earned media.

Absolut launched a film 'the vodka with nothing to hide' to prove just how transparent things are in Åhus, Sweden and features employees totally in the nude. Championing brand transparency, Absolut's campaign takes the style of a tongue-in-cheek employee induction video – with a twist. With consumers increasingly aware of brand ethics and ethos, Absolut's global campaign features 28 of its employees, including the CEO, Anna Malmhake completely naked. The nudity is used as a metaphor for their transparent production process, so rest assured, employees at the distillery are normally found fully clothed.

US slow cooker brand Crock Pot found itself at the centre of a social media maelstrom when popular TV show "This is Us" revealed that the cause of the house fire that a key character was a faulty slow cooker. After the episode aired, the stock price of the brand plummeted as Crock-Pot owners took to social media with fear – with some even claiming to be throwing out their gadgets. Crock-Pot recruited the help of This Is Us actor Vilo Ventimiglia, whose beloved character Jack Pearson perished as a result of the fire with a Super Bowl video that introduced the hashtag, "Crock-Pot is innocent." The day after, engagement around Crock-Pot increased by 84%.

Range Rover decided to do a public demonstration of what their Evoque 4×4 can achieve, by setting up "the world's biggest speed bump" in the middle of a London street. Confused motorists pull up to the enormous obstacle and either turn around, try to fit around it, or in one case just drive straight into it. Released on the brand's social channels, the video clip from agency Spark44 has amassed more than 16m views on YouTube since its release right at the end of 2017.

In New Zealand, Pedigree launched a campaign to promote its new SelfieSTIX product which helps dog owners to create perfect selfies with their pets, winning a raft of Cannes Lions mobile awards in the process. The dog food brand created a product that attaches the brand's DentaStix dog chew products to any mobile phone to help capture their pet's attention and focus for the perfect photo. An integrated campaign featured photogenic dogs, showcasing their best duckface and blue steel looks will run across digital, social, print and in-store media across Australia and New Zealand, ahead of a global rollout. The app converted peoples' canine companions into a cast of characters, including police officers, aviators, university graduates, safari explorers and cowboys by using a unique combination of canine facial recognition technology and machine learning to track the dog's face, which allows for accurate placing of the filters.

PEDIGREE® SelfieSTIX Case Study from Colenso BBDO on Vimeo.
Coca-Cola-owned drinks brand Oasis created a parody of the world of marketing, with an ad that challenged people with opposing views to drink from the same oddly shaped bottle. Poking fun at the latest trend for worthy, heart-warming, all-shapes-and-sizes advertising, the campaign centred around an Oasis bottle with a difference. The self-aware spot parodies the desire of brands to align with social justice movements, with scenes reminiscent of campaigns such as Heineken's "World's Apart". Then the film descends into farce.

The online mattress delivery market has been booming recently, but this long-form ad from Purple stood out from the crowd with its unusual experiment, sharp use of humour and striking visuals. The commercial featured a "human egg drop" stunt designed to show the mattress is so supportive and comfortable that eggs won't break when a body falls on top of them. The ad was hugely popular, getting over 44 million YouTube views. But it also courted controversy with some saying the claims are misleading.

To promote the launch of its new running shoes, Epic React, Nike developed an immersive 'Reactland' initiative that transported users into the heart of a virtual video game (complete with an Avatar of themselves).This gaming event was then filmed and combined with a digital marketing campaign rich in content across a host of channels and touchpoints, including website, mobile, social media and video.

Consumer protection firm ReclameAQUI ran a campaign in to fight corruption in Brazil by offering a smartphone app ahead of a general election. The app became the most downloaded in the country, and won this year's mobile Grand Prix in Cannes Lions. In just one week, Corruption Detector attarcted more than 400.000 downloads. It was also highlighted as #1 Apps We Love at Apple Store and #1 Trending Apps at Google Play. In a few days, Corruption Detector took over the media and social conversations. With zero media investments, more than 120 million people were impacted. As a result, while some politicians tried to sue the company, other politicians used it on social networks to promote their integrity.

Pepsico-owned brands Doritos and Mountain Dew combined forces to issue a creative ad that aired during the Super Bowl which combined a social media hashtag campaign with celebrity power as Morgan Freeman and Peter Dinklage faced off in a lip-sync rap battle. Despite the hashtags not creating a huge trend, the ad itself did get people talking and is by far one of the most popular ads of 2018.

A social experiment stunt, conducted by Stella Artois and Matt Damon's water.org, illustrates the way so many of us take water – a basic human necessity – for granted. The digital video, called The Wait for Water, challenged people to imagine their everyday lives without access to clean water. The video, launched to coincide with Stella Artois and Water.org's 2017 campaign, highlights the reactions of unsuspecting people in the UK, and around the world, when they are told that water won't be available to them for up to six hours – the amount of time on average women in the developing world spend collecting water each day.

This ad from fintech firm iZettle is equal parts Black Mirror and Blade Runner (with some pretty clear homages to the latter). The ad posits a world where one giant corporation has taken over all commerce. In a sweeping, cinematic short film capitalism has been corrupted by the powerful, and underdogs resort to violence in the streets. iZettle is presented as an antidote to impersonal automation, the champion for little baker Billie in her fight against Giant Corp., an obvious nod to Amazon. The campaign also includes a searchable database of small businesses linked to Google Maps.

Pepsi got the most social engagement out of the $5m ad spots at this year's Super Bowl, according to research. After the Kendall Jenner debacle from last year, Pepsi used its 30-second Super Bowl spot to travel back in time and highlight different pop culture moments that Pepsi was a part of, which means Michael Jackson, Cindy Crawford, Britney Spears, Jeff Gordon and even the Back to the Future DeLorean all pop up. The brand also sponsored the halftime show as well as engaging across social media to further amplify its messaging.

Finally, one of the worst (and most dangerous) viral trends of the year was the Tide Pod challenge featured people making videos of biting or eating the extremely hazardous detergent pods. The P&G- owned laundry brand responded with this short video featuring a well-known NFL star to set the record straight.