Top crisps brands on digital: Popchips beats Walkers for engagement
Popchips, the makers of the 'popped' alternative, to traditional crisps, is taking on the big names and winning, through engaging marketing campaigns and "healthier" messaging, according to new research. The hi brands Brand sustainability survey was conducted by Harris Interactive with the cooperation of Aston Business School. The study measures brand sustainability across penetration, equity, […]
Popchips, the makers of the 'popped' alternative, to traditional crisps, is taking on the big names and winning, through engaging marketing campaigns and "healthier" messaging, according to new research.


The hi brands Brand sustainability survey was conducted by Harris Interactive with the cooperation of Aston Business School.
The study measures brand sustainability across penetration, equity, future relevance and vitality for a wide variety of popular brands, found that the popped snack manufacturer has won the hearts of UK consumers, with Popchips included in the top 20 most vital brands, taking the highest spot of FMCG brands measured, and most notably beating market leader Walkers.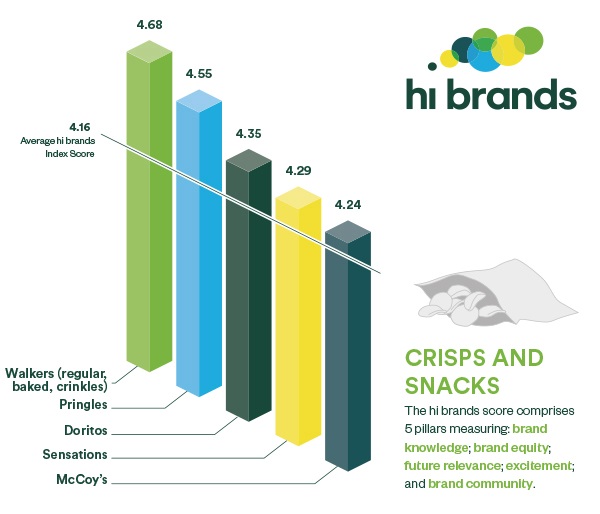 At just five years old, the company is still a relatively small fry in the snacking world and many consumers are not yet aware of it. However, those who know the brand rate Popchips as the second highest most future relevant crisp and snack brand (after Walkers), and best performing when it comes to brand excitement and creating a brand community. Popchips consumers simply like the people behind the brand and the way they can interact with the brand.
The key to Popchips' resonance with consumers is its brand position as a healthier snack. Using taglines such as 'Be a bit good' and the hashtag #GetPopped, the brand has adopted a fun, friendly personality to encourage consumer interaction on its website and via social media. Consumers can watch vlogs, find recipe tips and share their own snaps with the brand. The strategy clearly appears to be working as the results of Harris Interactive's survey are supported by fact that Popchips is now recognised as the fastest growing crisp brand in the UK.
Commenting on Popchips' positioning in the latest study, Magdalena Jablkowska-Citko, Consumer Research Director of Harris Interactive said: "Popchips may only have hit the UK market in 2012, but consumers are overwhelmingly excited about  the brand and actively seek information about it, which is uncommon in the fast-moving consumer goods category.
"The findings show huge customer anticipation for the brand, which has created a real and active community, where co-creation and empathy between the people behind the brand and consumers is strong. Despite being a smaller player, Popchips' larger competitors have a lot to learn from them in terms of consumer engagement."
"At Popchips we have a 'one snacker at a time' mentality, striving to create quality interaction and conversation with our fans," commented Helen Bromley, Marketing Manager, Popchips. "We believe that 'better for you' doesn't have to be boring, and leverage our lighthearted and positive brand personality to create feel good, uplifting experiences for our snackers that set us apart from other bland and serious snack brands. It is fantastic to see this research reveal that this approach is succeeding in building excitement for consumers "
As part of the hi brands study, respondents were asked to rate brands in a variety of categories, including crisps and snacks, fizzy drinks, games consoles and mobile phones, looking at brand knowledge, future relevance and brand vitality.
The brand sustainability framework was conceived, designed, fielded and analysed by Harris Interactive in conjunction with Aston Business School.
To find out more, visit: http://harris-interactive.co.uk/solutions/brands-communication/hi-brands/
www.harris-interactive.co.uk