Twitter sees usage soar (but ad growth falters)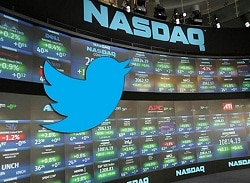 Twitter saw a first-quarter usership surge, but a growth in ad revenue did little to boot its bottom line.
While monetizable daily active users (mDAUs) were up 24% (to 166 million), revenue was up just 3% (to $808m), year-over-year.
For the quarter ended in March, ad revenue totalled $682m, up only about $3m, year-over-year.
Twitter disclosed that ad revenue dropped 27% from March 11 to March 31 as the pandemic worsened, and when asked to comment on April trends, a Twitter executive pointed back to the commentary on the last few weeks of March, saying, "that gives you a good sense for what it's been like for us," according to a FactSet transcript of the company's earnings call.
The usage growth of 24% is the largest Twitter has ever reported year-over-year, but the growth wasn't enough to offset the sudden advertising decline caused by the pandemic.
Twitter's results are similar to those we've seen from other apps and web services: usage is up significantly as a result of people being stuck at home and looking for things to do, but there are signs that advertising could fall apart next quarter, leading to a serious drop in revenue.
Aaron Goldman, CMO, 4C Insights, said: "Twitter's first quarter earnings show how valuable the platform has become to both consumers and advertisers. With monetizable daily active users up 2 million more than expected in Q1 and ad revenue growing $3 million year-on-year, it's clear Twitter is benefiting from its position as the place where people discuss what's happening in the world at any, make that every, given moment. From a 4C perspective, marketers are especially leaned into video ads across closed ecosystems. On Twitter, these formats really pop out of the feed as consumers have more time on their hands to engage with brands. Looking ahead, we expect Twitter to continue playing a key role in aligning advertisers with targeted audiences throughout the pandemic and beyond."