UK ad budgets show surprise comeback amid Brexit crisis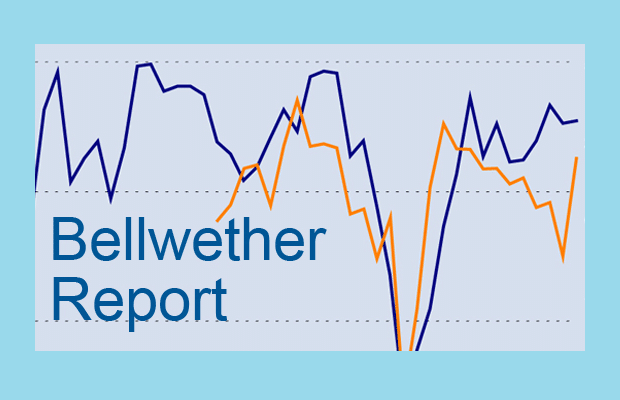 UK marketing budgets have enjoyed a surprising comeback for the first quarter of the year, with 21.6% increasing spend versus 12.8% cutting back, according to new data.
The quarterly Bellwether from the Institute of Practitioners in Advertising (IPA) features original data drawn from a panel of around 300 UK marketing professionals from the UK's top 1000 firms.
The budget increase signals a surprise boost to marketing spend after growth flatlined at the end of 2018 against the backdrop of Brexit uncertainty.
The report compiled by IHS Markit shows that the net balance of marketing executives reporting upwardly revised budgets increased to +8.7% in Q1 2019, up from a +0.0% reading for the final quarter of 2018.
This is the highest growth since Q3 2017. Around 21.6 % of panel members observed spending growth, compared to 12.8% registering budget cuts.
The best performing category in the survey was internet, which saw its net balance jump from +2.1% to +17.2%.
A renewed drive for big-ticket advertising campaigns was also apparent during the opening quarter of 2019, with main media marketing returning to growth (+5.2% from -6.2%).
Events was the third and final Bellwether category to register expenditure growth (+3.4% from +2.6%). Events now seem to be a significant weapon in many marketers' armoury.
Forecasts for 2019 as a whole are still subdued however.
IPA director general Paul Bainsfair said: "This sharp increase following Q4 2018's flatlining signals that UK marketing budgets have received a much-needed kiss of life in an economy gripped by Brexit uncertainty. The smart marketers realise that to grow their businesses, they must invest in them, particularly in mass reach, long-term media."
IHS Market's Joe Hayes, author of the report, said: "A return to growth in marketing budgets during the opening quarter of 2019 may come as a surprise given the uncertainty that shrouds the UK political and economic climate has only built further since the previous Bellwether Report. However, some companies began to show a determination to step up brand-building and protection in these challenging times, taking a pro-active, yet defensive approach in the face of business belt-tightening and weakening consumer confidence.
"That said, cautious undertones were still apparent in budget plans for the 2019/20 financial year, with panellists providing only modest growth expectations in available marketing spend. In fact, the outlook was the most subdued since 2009."
Despite noting a boost in Q1 2019, marketers are still being reserved in their budget projections for the rest of the financial year.
Although approximately 26% of respondents foresee growth for the remainder of this year, the remaining 74% expect cuts or no change.
Marketers' confidence levels remain significantly negative. Following the first downbeat outlook towards own their firms' prospects since Q3 2012 during the previous Bellwether survey, the latest data shows no signs of improvement.
A net balance of -2.7% brand leaders indicated a pessimistic assessment towards their company's finances, compared to -0.9% during the final quarter of 2018, showcasing a stronger degree of negativity.
Industry-wide financial prospects also remained pessimistic during the first quarter. However, the net balance of firms casting a downbeat assessment was slightly lower than previously, registering -22.6% (vs – 28.6% in Q4 2018).
The responses signal one of the most negative industry-wide outlooks since the global financial crisis.
Industry reaction
Jon O'Donnell, Managing Director, Commercial, ESI Media, said: "This report provides welcome optimism to marketers and the wider industry. It's particularly pleasing to see increases in the key areas our business operates in, internet advertising and main media, including print. Although there is an understandable sense of caution, it's reassuring that brands continue to show a trust in traditional media. Smart money is still going into building reputation in a brand safe environment, which will protect business growth as the rest of the year plays out politically. Newsbrands are a key part of this media mix, demonstrating continued product innovation, as well as a crucial trusted relationship with audiences."
Damon Reeve, CEO, The Ozone Project, said: "Increased investment in digital targeted and display advertising is welcome news in the current economic climate. As the advertising market consolidates around a few technology companies with little competition, we expect most of this growth will be captured by the advertising platforms of these technology companies, while publishers will continue to fight their corner to maintain revenue. A significant opportunity exists for publishers to collaborate to offer greater competition, more compelling platform-like capabilities for brands and to capture future growth."
Sue Hunt, Chief Revenue Officer, VIOOH, said: "There's no denying the economy is labouring through a tough stretch and as a result we are seeing advertising budgets being cut or pushed back.
But at the same time, we are seeing a revival in "traditional" media that is perhaps a reaction to the duopoly stronghold and continued trust crisis around brand safety for advertisers investing in digital channels.
"Interestingly, Zenith's global ad spend forecasts for 2019 predicts that out of home (OOH) will experience the fastest growth of traditional media as digital screens and programmatic trading become more prevalent. A sentiment that was supported by research we recently carried out for our 'State of the Nation' report on the future of OOH.
"Ultimately, we are seeing digital and programmatic technologies allow OOH to be easily included in multimedia digital campaigns. Global's acquisitions last year are further proof of this. The radio company has bet big on outdoor, recognising the synergies and opportunities across a wider digital portfolio.
"To survive and thrive, marketers now need to develop marketing strategies that are more aligned across mediums to deliver unified and memorable brand experiences for those who matter the most – the consumers."
Giovanni Strocchi, CEO, ADmantX, said: "Perhaps surprisingly, we saw a good Q1 ( flat Q1 vs Q4 is a positive trend) meaning brands invested a little more "incremental investments" in the period before the uncertainty of Brexit.
"Economic uncertainty caused by the recent and multiple Brexit negotiations has kept marketers' confidence levels significantly negative. However, the postponed decision until the autumn can restore consumer confidence (that an agreement can be reached) and could also align the level of ad spending to other EU markets as a trend.
"The increase in internet advertising shows that brands have given more attention to their brand-building and web reputation. As a result, the context of communication has become very important. In turn, this has enhanced the need for a true personalised brand safety strategy ( Brand Care). In today's climate, there will be a greater attention from brands to be wary of the critical topics tied to Brexit in all contextual communication as well as a focus on adopting the right intelligent contextual solution to do so.
Justin Taylor, UK MD, Teads, said: "So far this year the UK has been in a perpetual state of flux. Moving from bad news (slowing UK productivity rings alarm bells) to great news (UK defies Brexit to top the world ranking for investment) to the ever increasing frustrating news cycles (Brexit delayed until October 31st).
"However, one major trend emerging from our macro governmental challenges and the uncertainty of Brexit is that brands are being cautious in their predictions, then over delivering against these expectations. This economic oxymoron is symptomatic to the shift change we are seeing in the advertising and media environments.
"Indeed, it is great to see main media grow, highlighting the fact that brands are ensuring they are front of mind in their brand building activities, compared to more direct and BTL advertising. However, it is the Internet that continues to shine and underpin the whole industry's growth. For me this is the most important learning from the latest Bellwether report – the Internet works across all stages of the marketing funnel without the distinction of brand or performance. As a result, clients are adapting to the realities of the new world, the new technologies and the new ways to reach their consumers.
"And I believe that whilst 2019 looks subdued, we could see an upward revision in June."
Ken Leren, Founder, Marketing Town, said: "The IPA's latest Bellwether report highlights that the stranglehold of Brexit is still very much holding the UK back and we are risking a double dip as the country fails to keep up with comparable economies. The first by an anxiety caused recession, and the second by a badly managed Brexit causing turmoil. And what's clear, is that businesses would like an outcome.
"Despite this, an increase in digital advertising spend as well as spend on broader advertising campaigns are very welcome and affirms our position as the world's second largest internet economy. Simultaneously, the increase in direct marketing budgets shows a strong move towards more tailored and attentive audiences. And targeted, relevant advertising will continue to foster ongoing trust between brands and consumers.
"Ultimately, we are seeing more marketers invest in digital advertising and move towards a performance-led mindset, reaping the rewards in the process. As a result there is a demand for new technologies with greater level of personalisation, transparency and tracking accuracy.
"Marketers must now start to understand old and new performance channels to be able to continually measure and optimise their marketing strategy and deliver even stronger results.